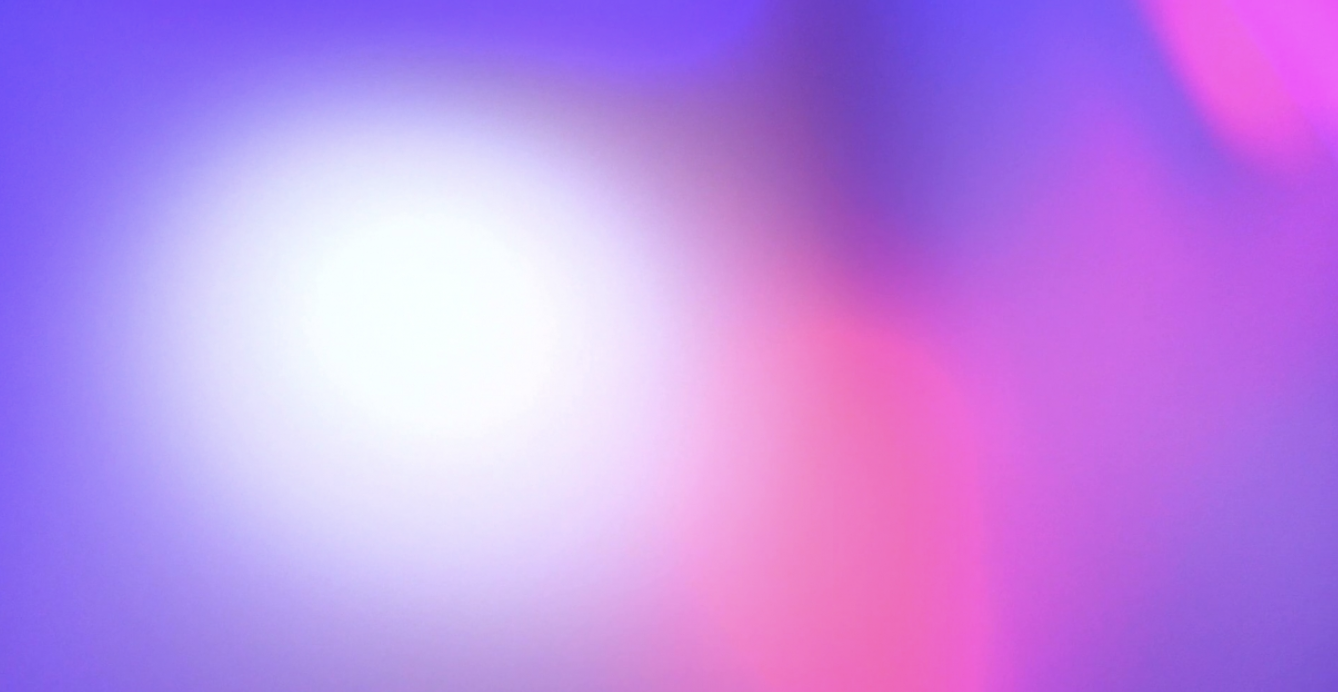 LEILA BORDREUIL: EPISODES ET MUTATIONS WITH DORON SADJA / PERFORMED BY MIVOS QUARTET & THOMAS DEXTER
Immersive light installation / performance @ Issue Project Room



WILDFIRE
2 Channel 4K Video, 5:00 looping.


OPTICAL / TRACK (EXCERPTS)
Single channel HD Video, Optical Sound, Audio Hardware. 64:00

Using a rail journey between Chicago and New York City as raw material, the image is flipped and doubled to approximate an audio waveform passing through the sound head of a film projector. Patterning in the landscape (rural, urban, empty, busy, geometric, formless) is rephotographed live and generates the soundtrack.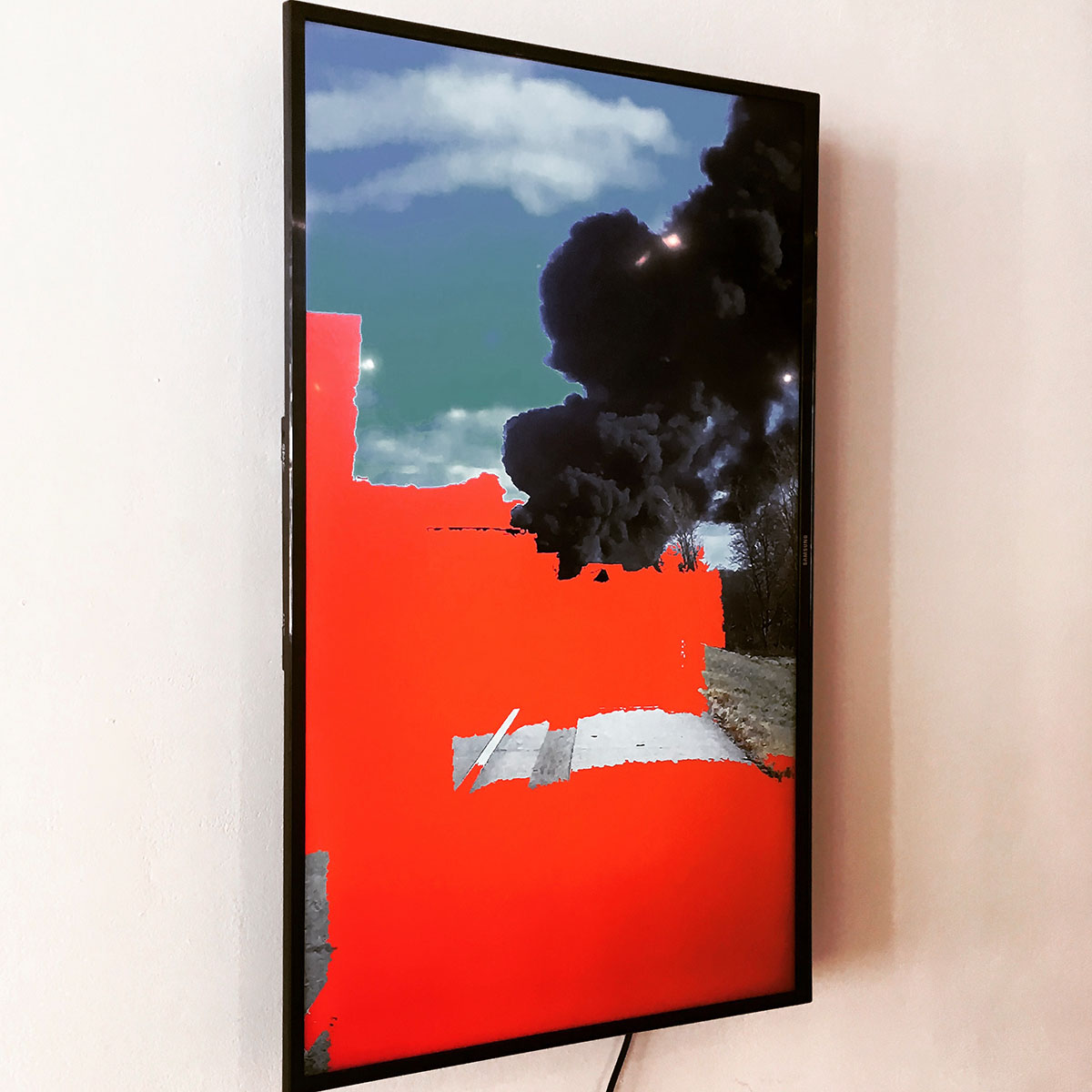 SCREEN: TRAVELING MATTE
Single channel HD Video. 2:00

An accident captured on my cellphone is occluded by a motion-tracked digital painting. This "screening" both distances and universalizes, the image and the barrier become one substance in memory.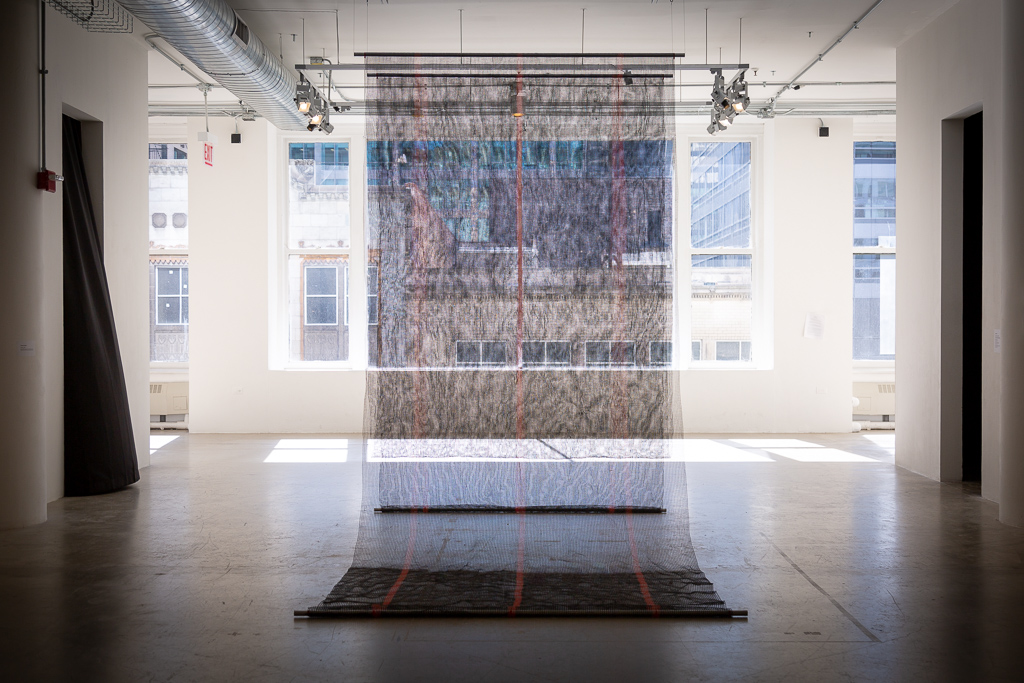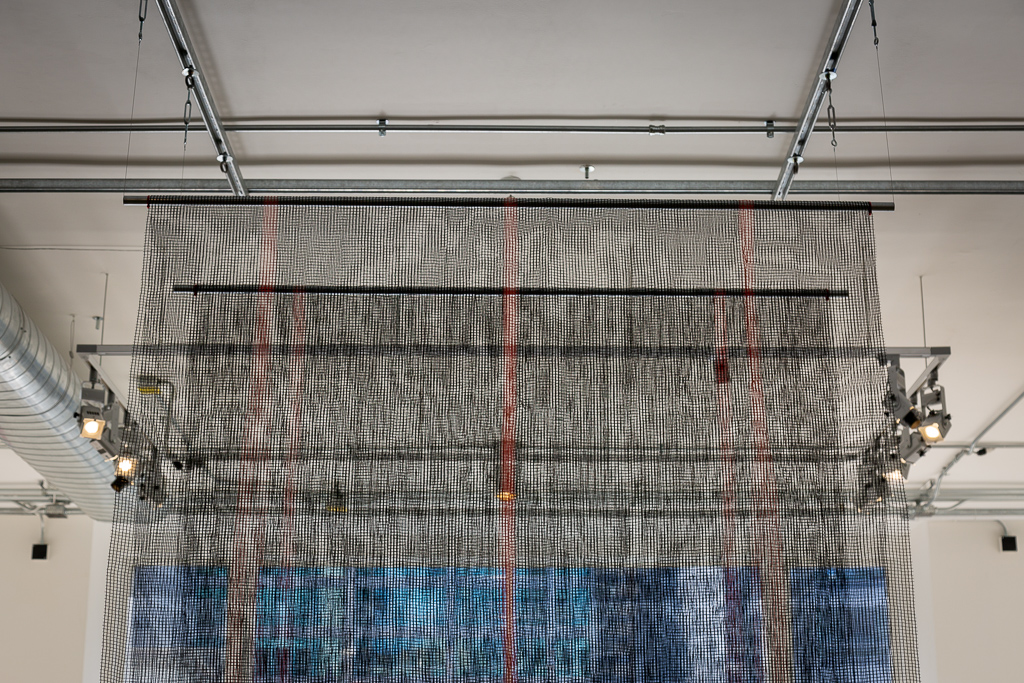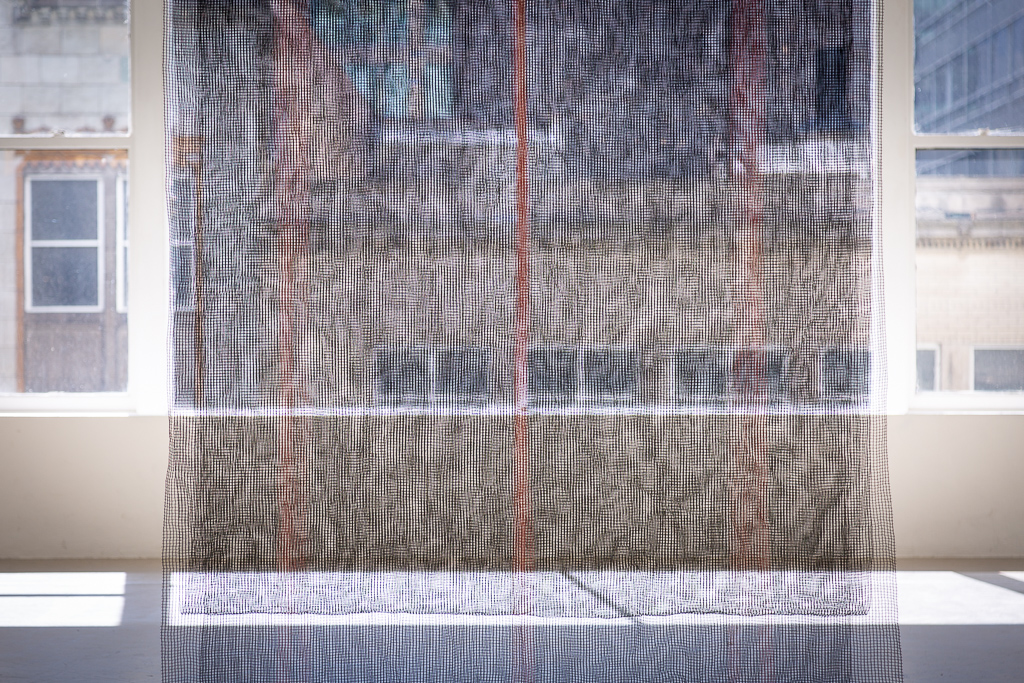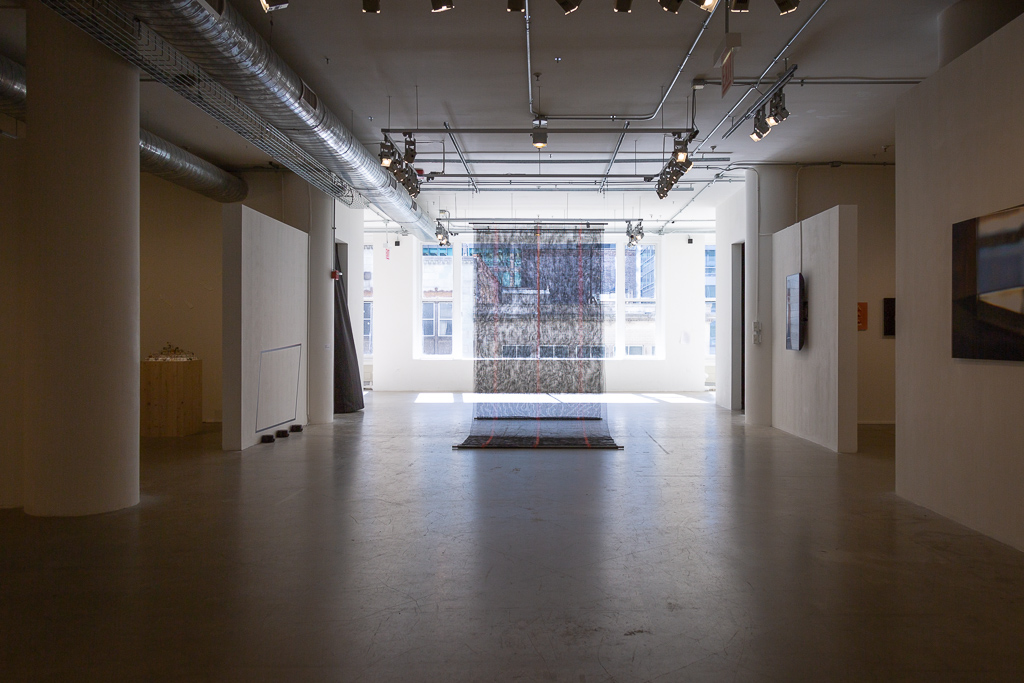 SCREEN: CONSTRUCTION/SIGHT
Debris mesh, hardware, fasteners, 12' x 9' x 8'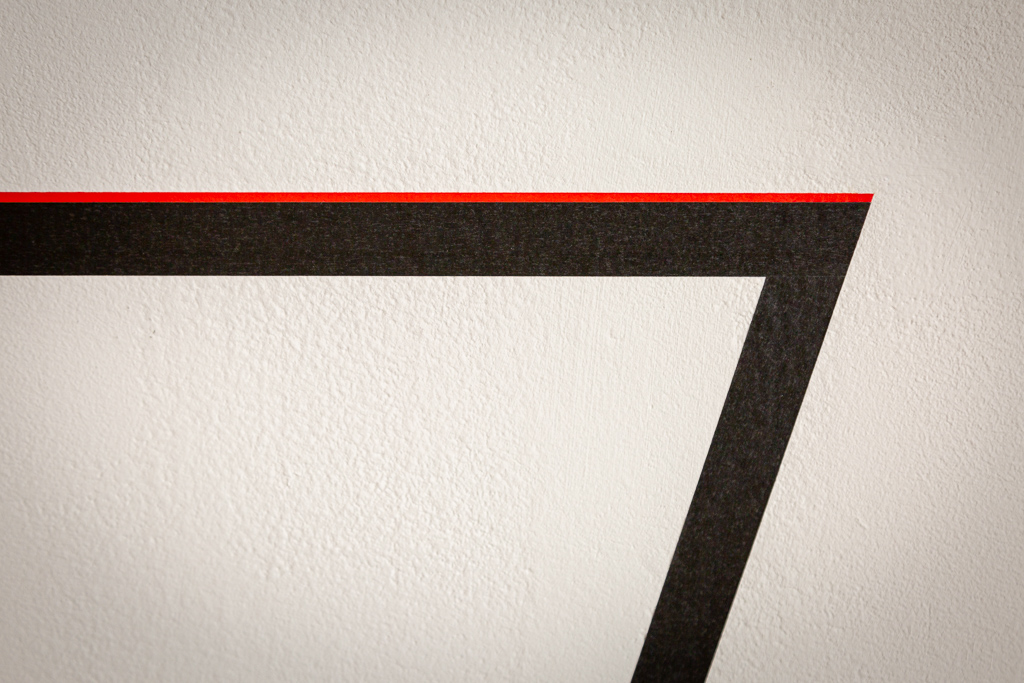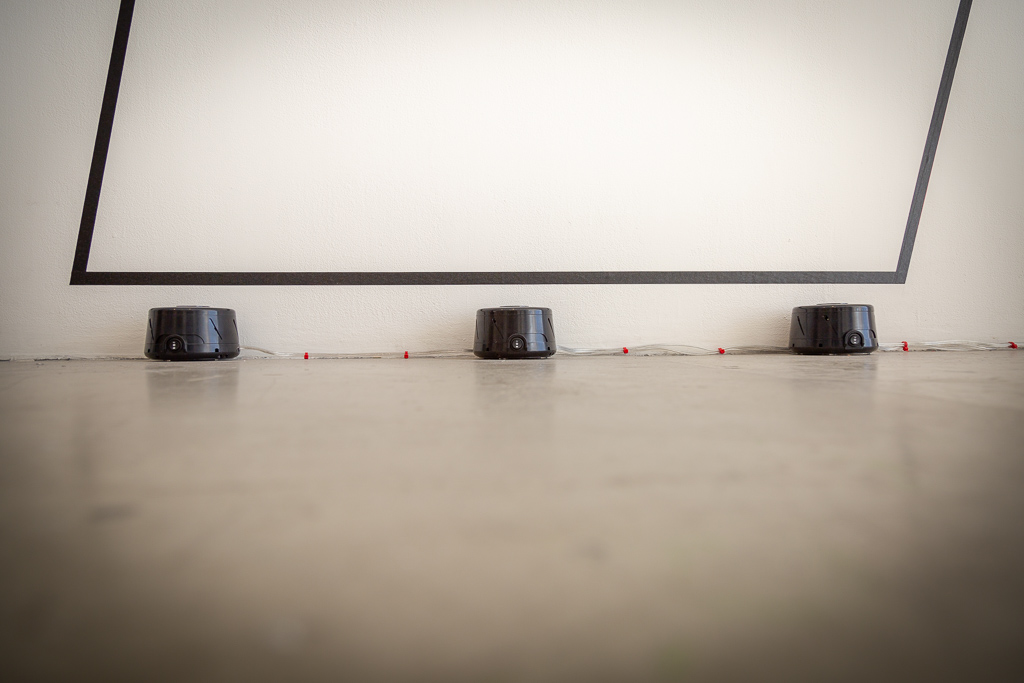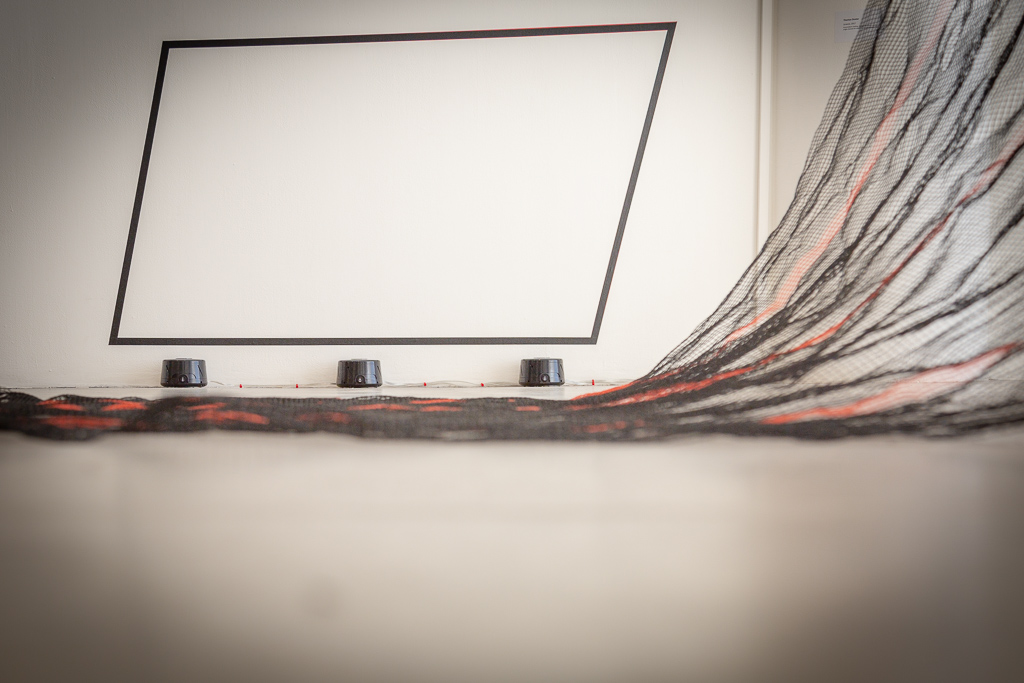 SCREEN: TWO CONDITIONS
White noise generators, tape, 9' x 4' x 1'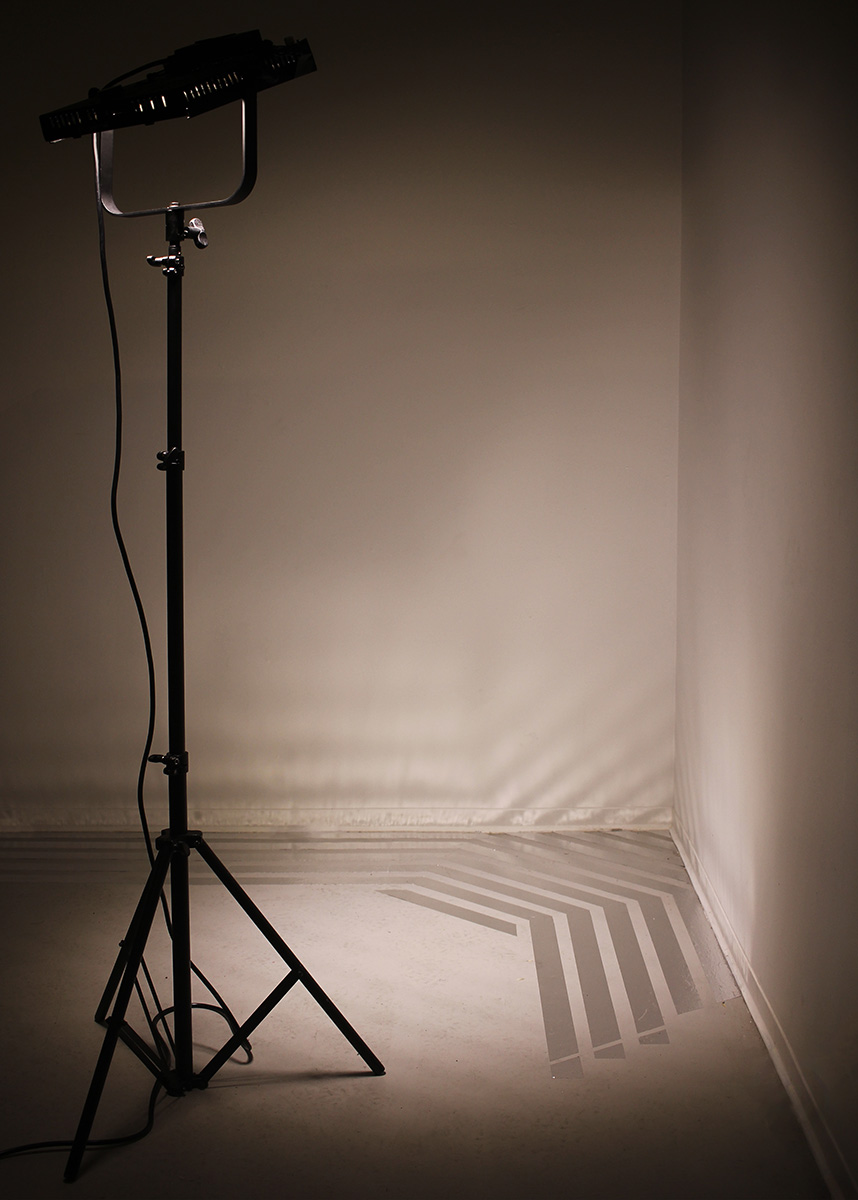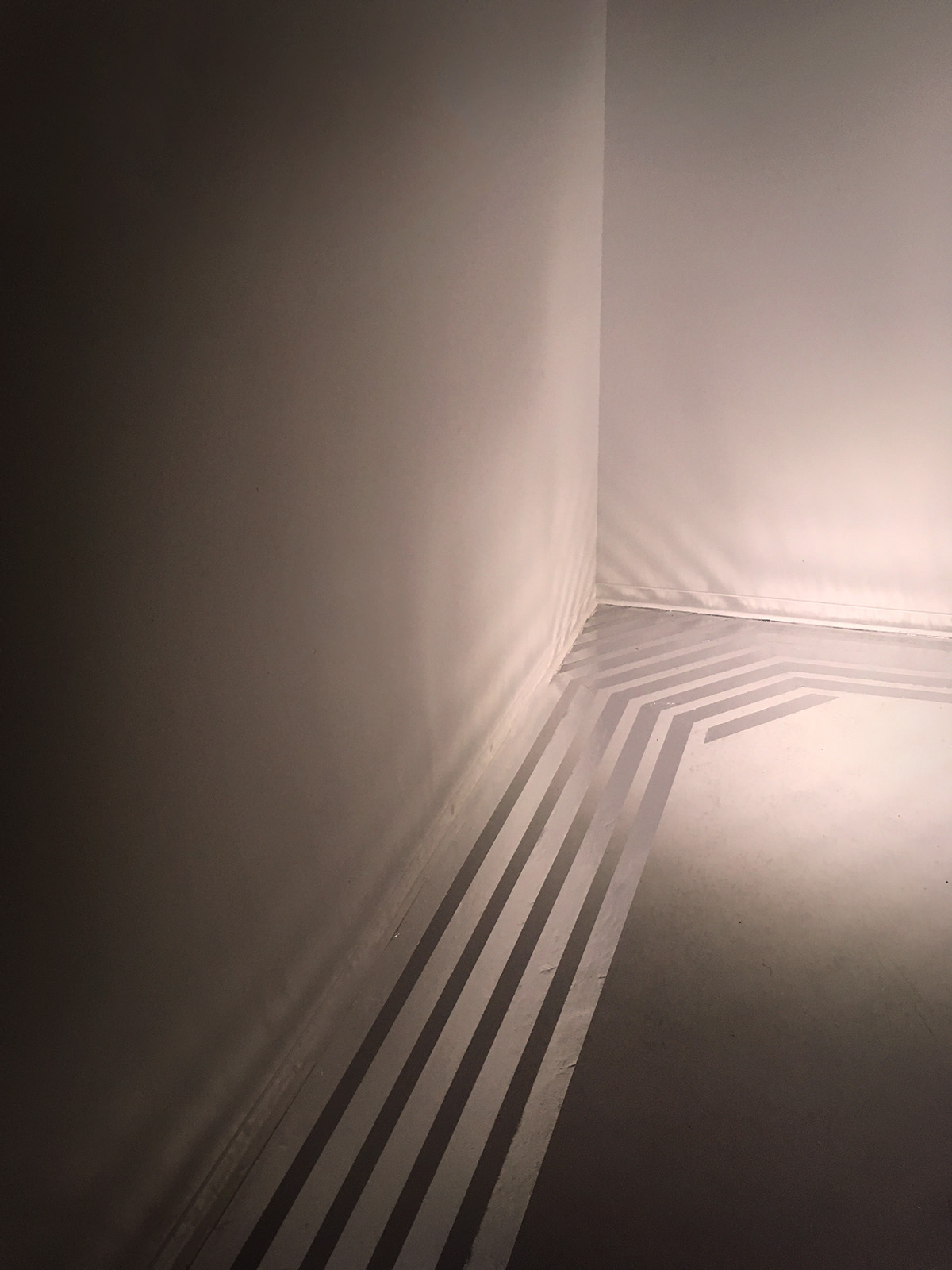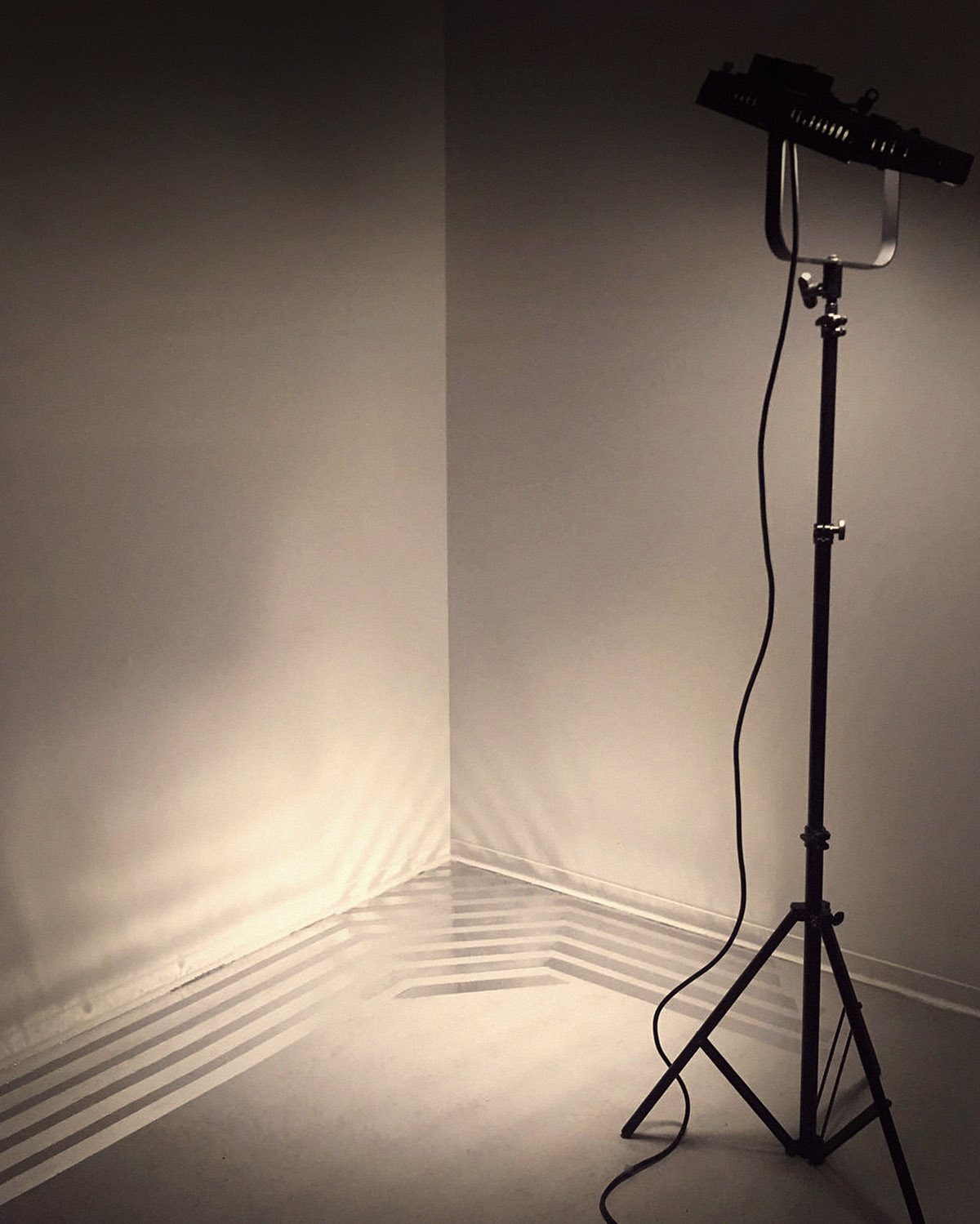 ECHO
Aluminium tape, light kit, dimensions variable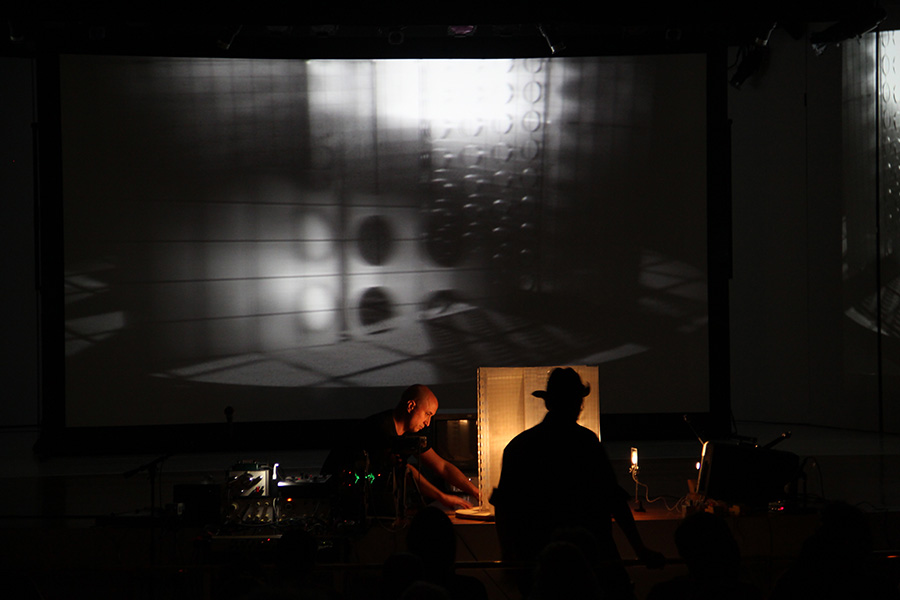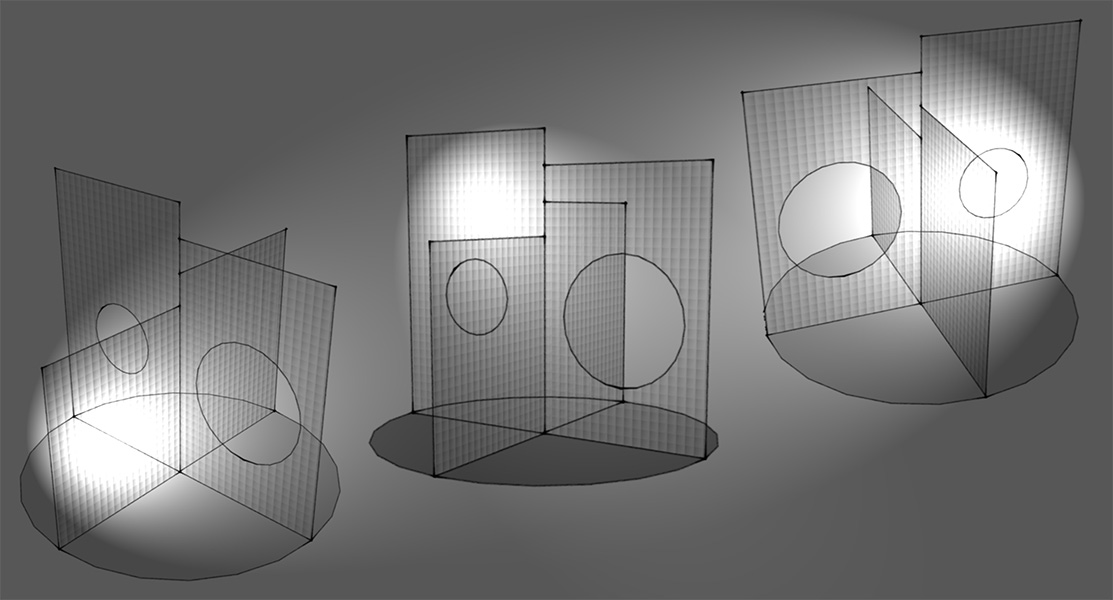 ESCAPING László Moholy-Nagy
A cinematic performance conceived with multimedia artist David Linton for Future Present at the Solomon R. Guggenheim Museum NYC

Beginning with Moholy-Nagy's "Light Prop" and lost sonic experiments,
this work blends traditions of the moving image at the site of a para-fictional performance object.

https://hyperallergic.com/314896/paying-tribute-to-moholy-nagy-with-a-concert-of-light-and-sound/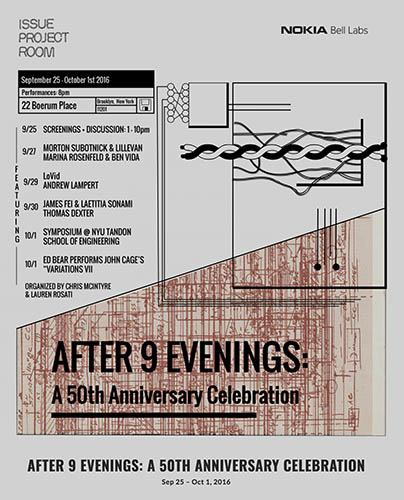 EXTENDED CINEMA @ ISSUE PROJECT ROOM NYC 9/30/16
After Nine Evenings

Edited performance documentation, HD Video, 28:51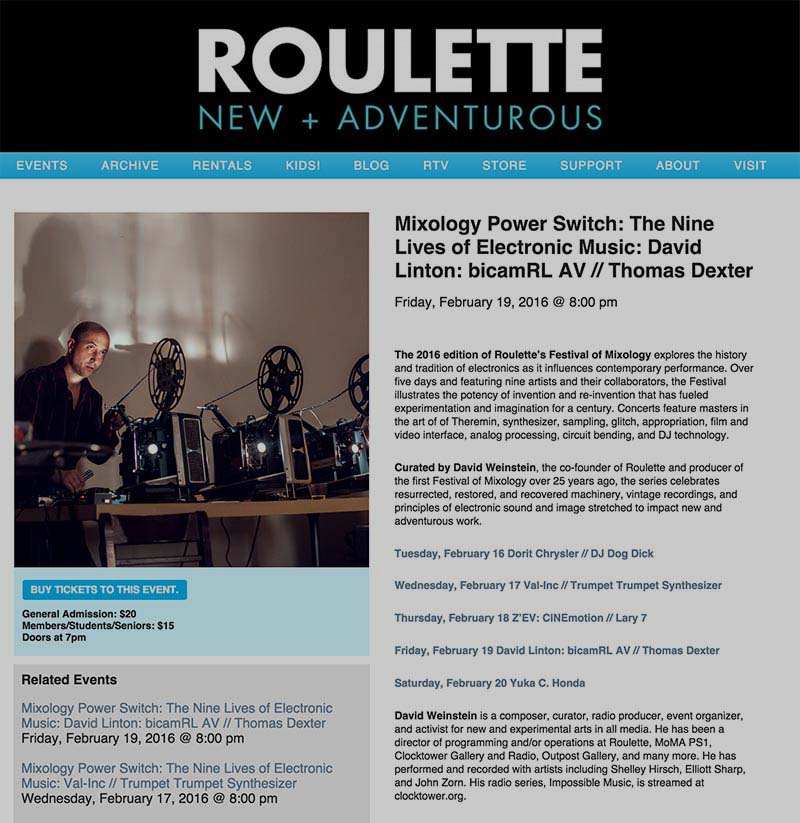 EXTENDED CINEMA @ ROULETTE INTERMEDIUM NYC 2/19/16
Mixology

Edited performance documentation, HD Video, 5:45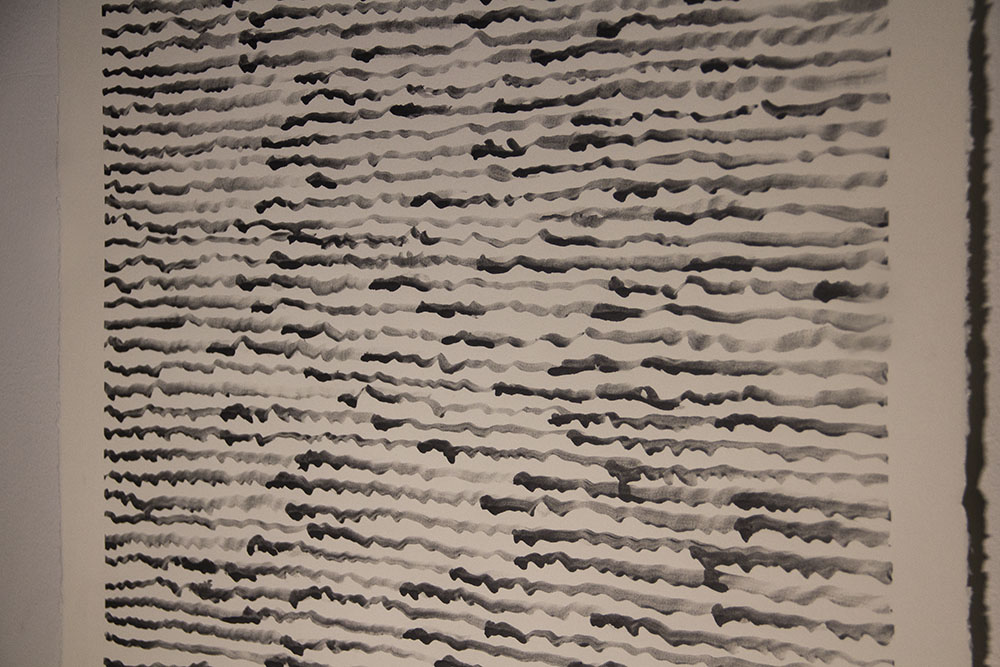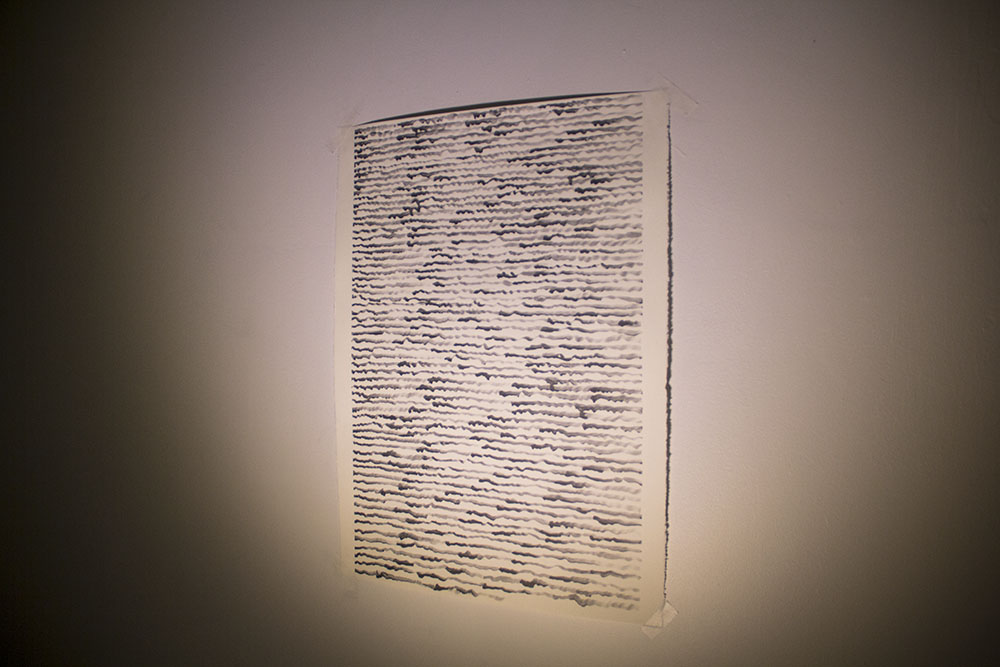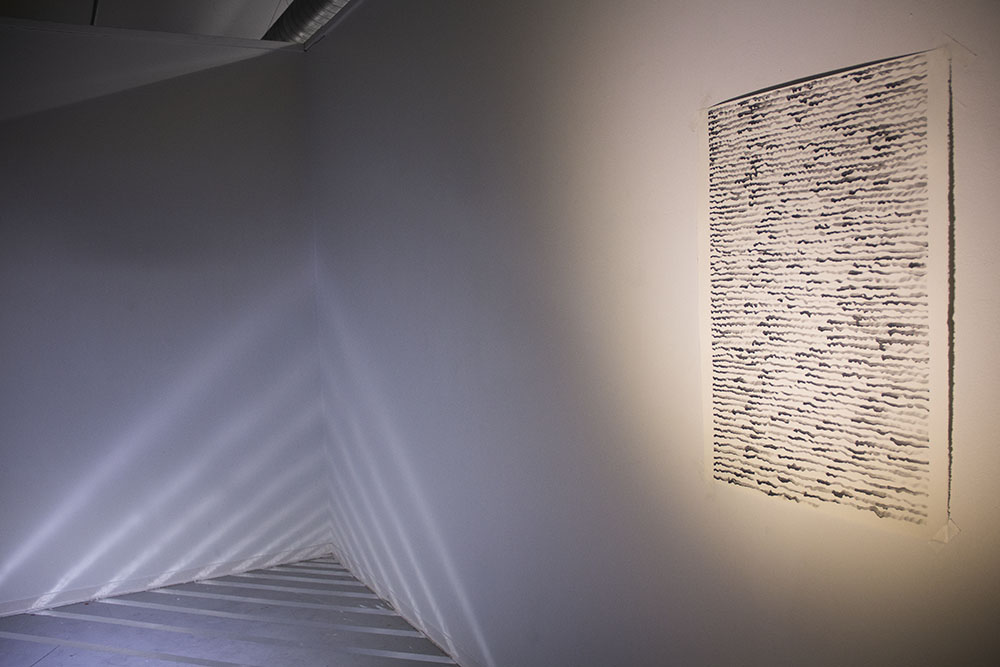 NERVOUS INDEX (2015)
Liquid graphite on paper, 22" x 30" Br>

A series of procedural drawings exploiting a hand tremor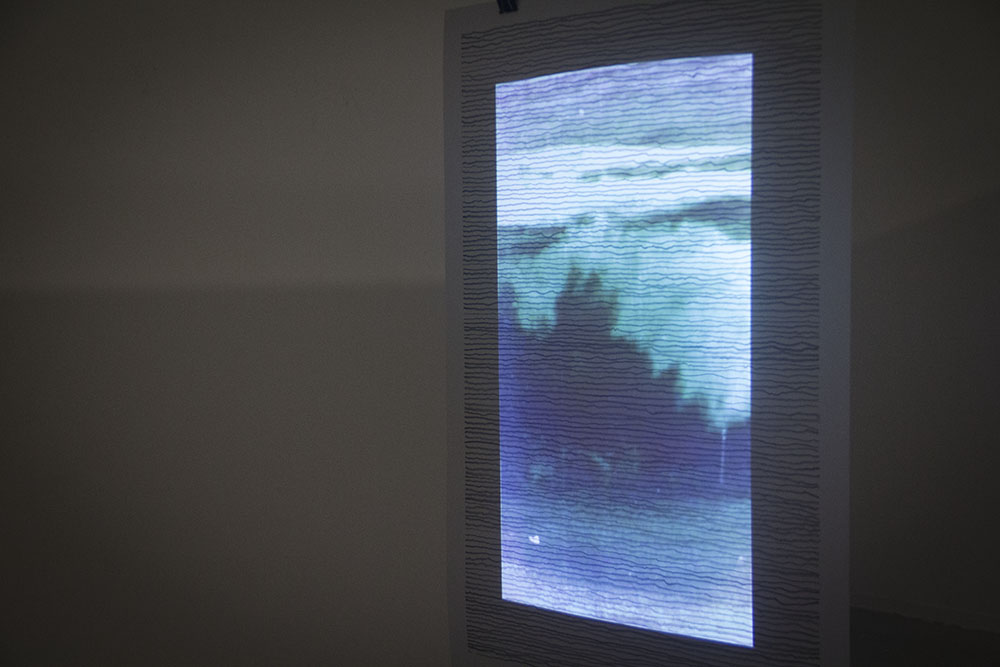 WAVE/WAVE (2015)
Found 16mm film transferred to HD Video, :30 Loop.

Graphite on Dura-lar 24" x 36"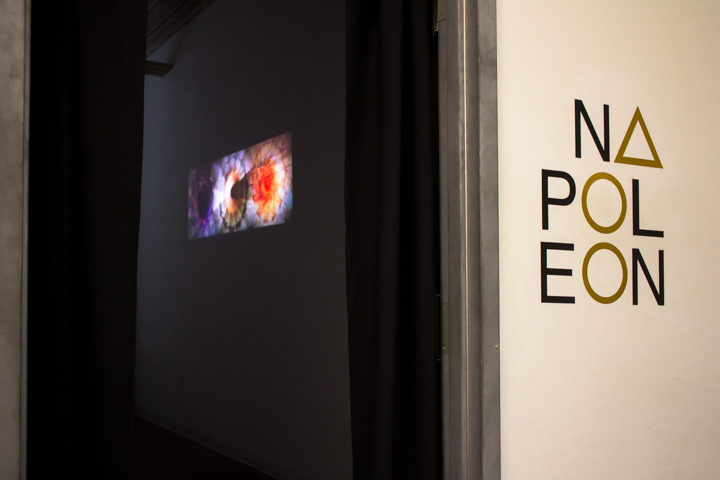 TIME (AFTER) TIME (2015)
Napoleon Gallery, Philadelphia PA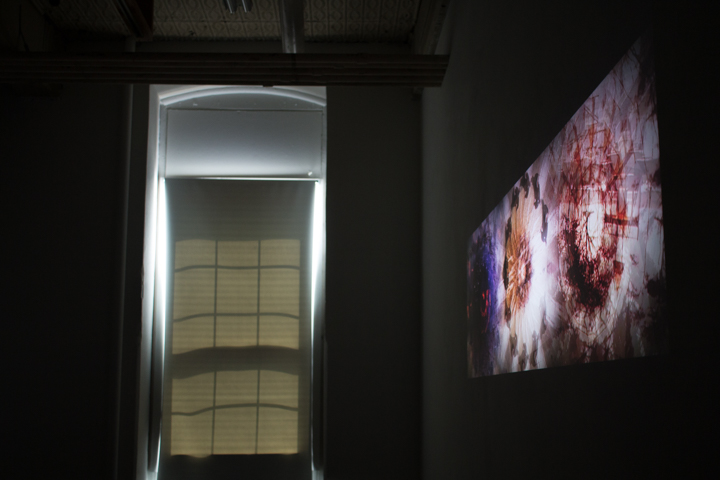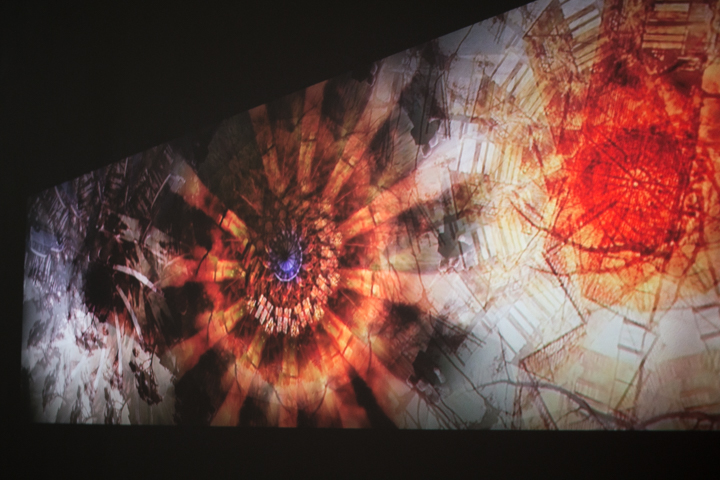 HOUSE (2015)
2 channel HD Video, 20:00 loop

From The Sacrifice, by Andrei Tarkovsky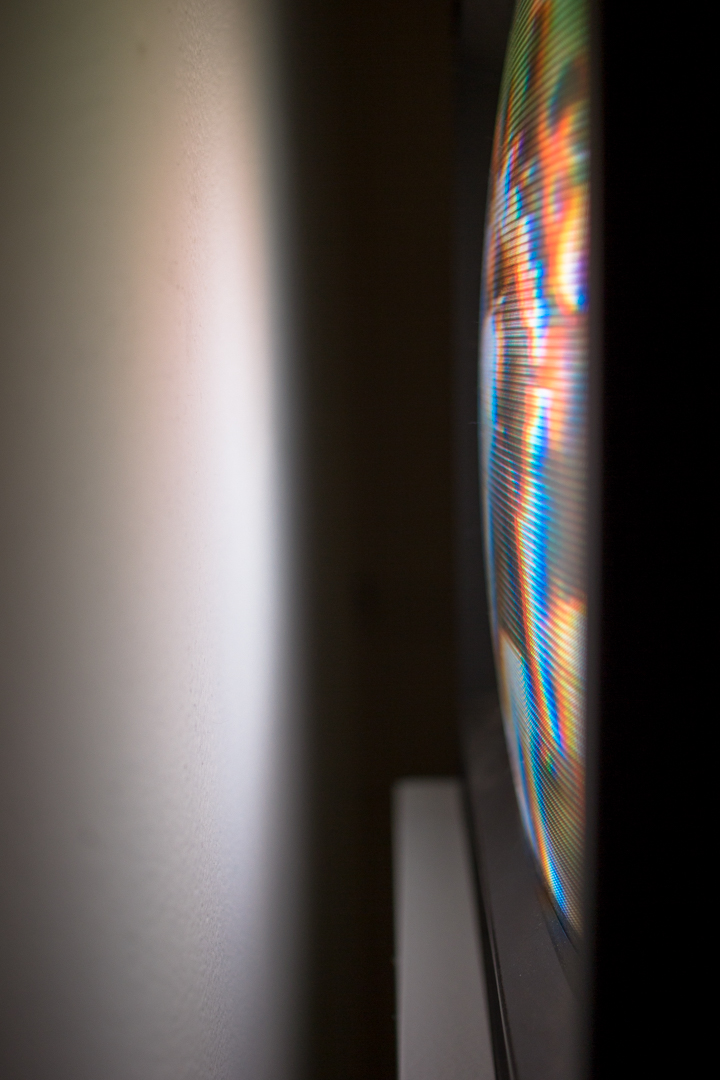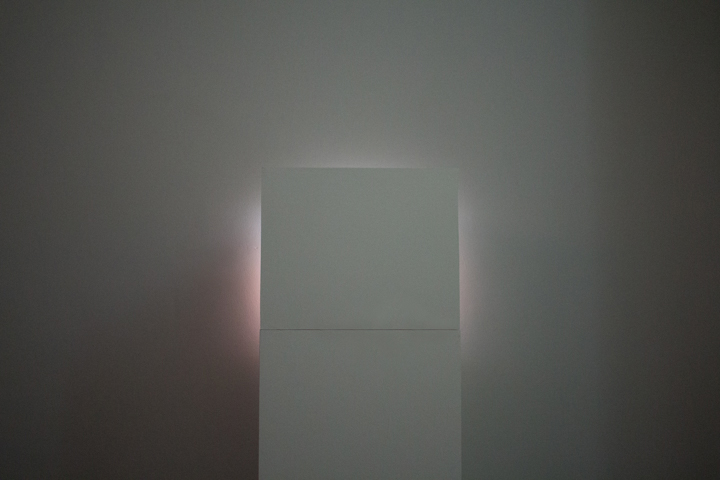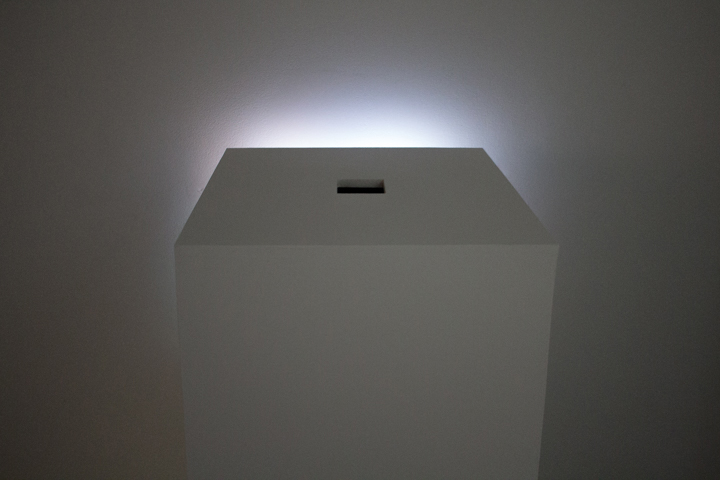 EVIDENCE OF MY EXISTENCE (AS SEEN ON TV)

1:20PM, APRIL 22ND, 1978 (2015)
SD Video and sound 2:30. Custom enclosure 57" x 16.5" x 25"

From The Los Angeles Angels vs.The Minnesota Twins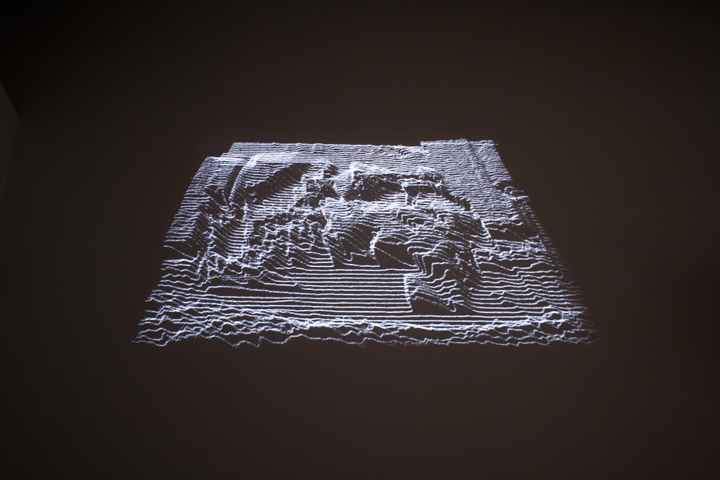 4X DISPLACEMENT (2015)
HD Video. 9:45 loop (excerpt)

From the home movies of Sigmund Freud, 1930 – 1939

HOUSE (2015)
HD Video, 12:00 loop

From The Sacrifice, by Andrei Tarkovsky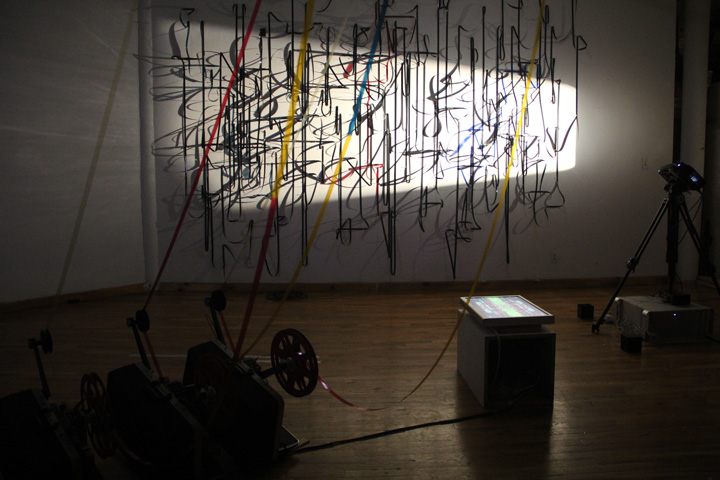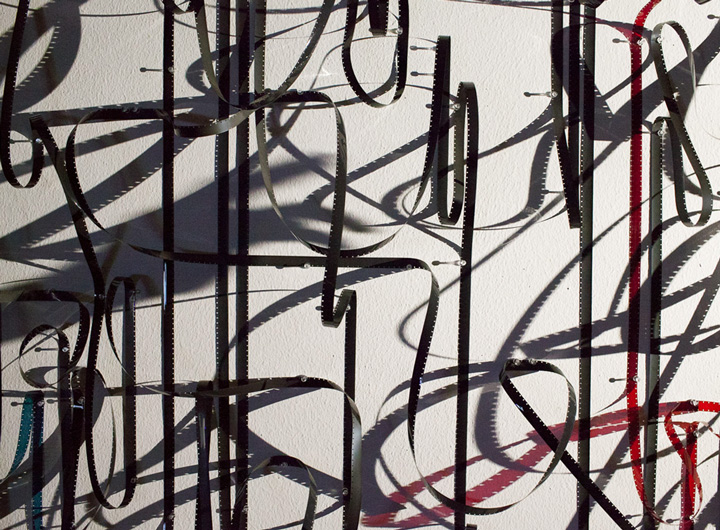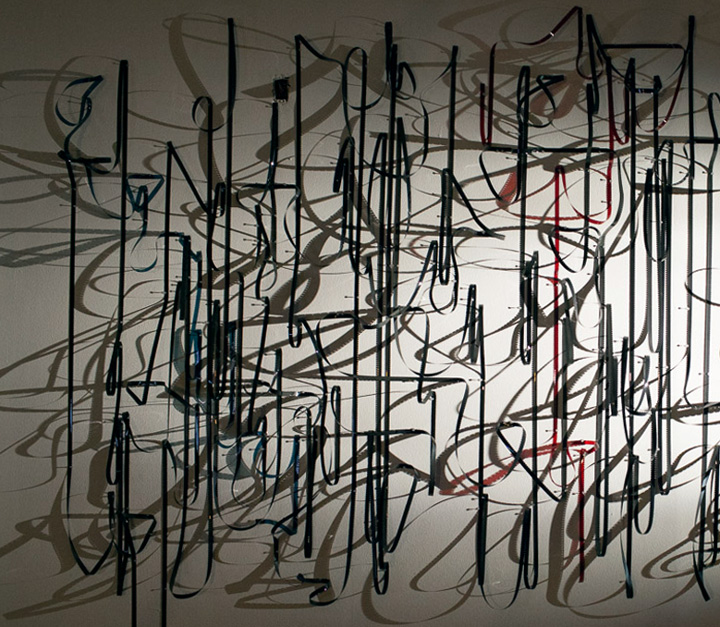 UNTITLED (2014)
Film leader, pins, 96" x 120"
Isaac Newton - in an undated letter to John Locke

The manner was this. I looked a very little while upon ye sun in a looking­glass wth my right eye & then turned my eyes into a dark corner of my chamber & winked to observe the impression made & the circles of colours wch encompassed it & how they decayed by degrees & at last vanished. in a few hours time I had brought my eys to such a pass that I could look upon no bright object with either eye but I saw ye sun before me, so that I durst neither write nor read but to recover ye use of my eyes shut myself up in my chamber made dark for three days together & used all means to divert my imagination from ye Sun.

But now I have been very well for many years, tho I am apt to think that if I durst venture my eyes I could still make ye phantasm return by the power of my fansy.

Using the destruction of the camera as allegory, Opticks (I) explores the inter­dependance of the external world and the sensory medium.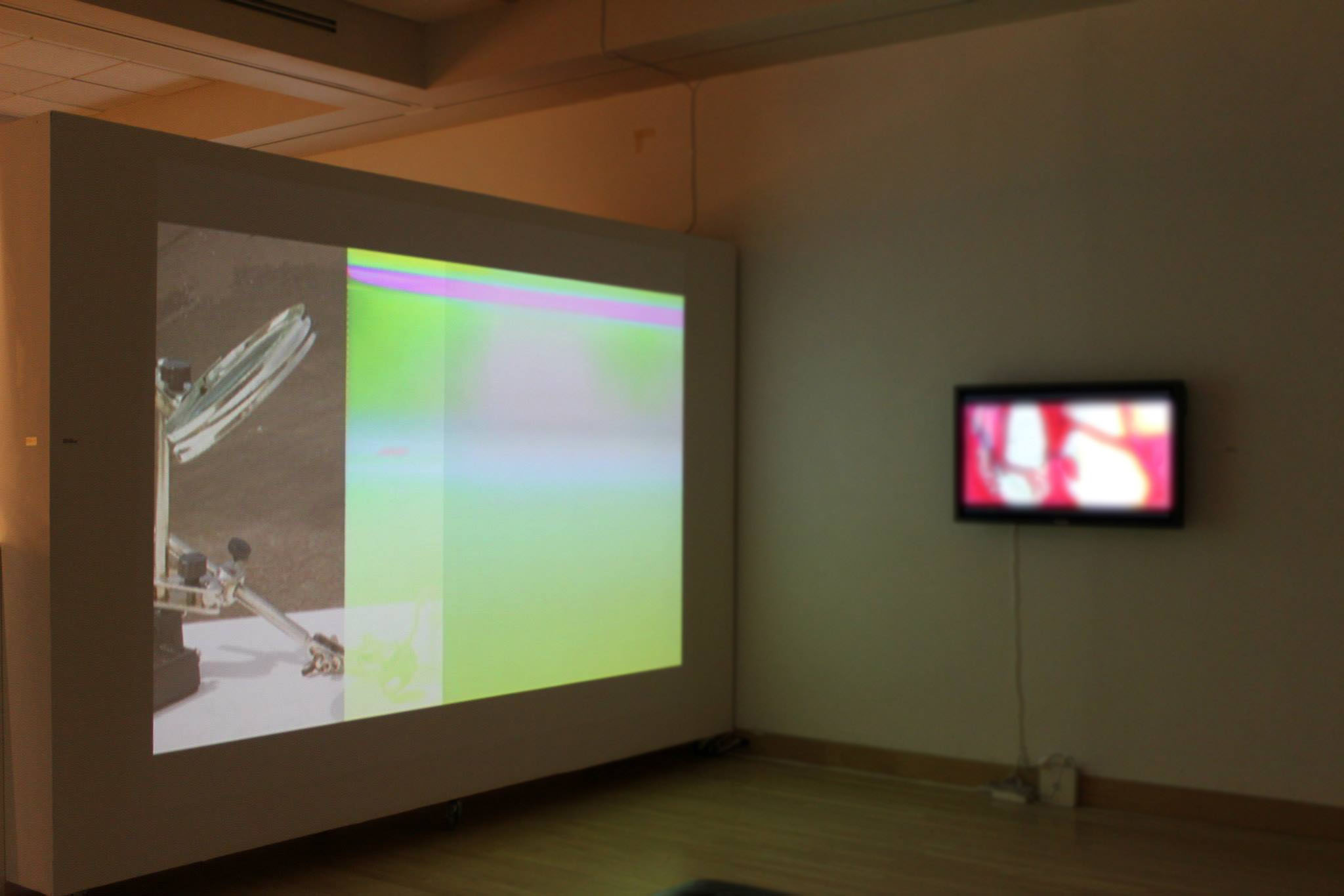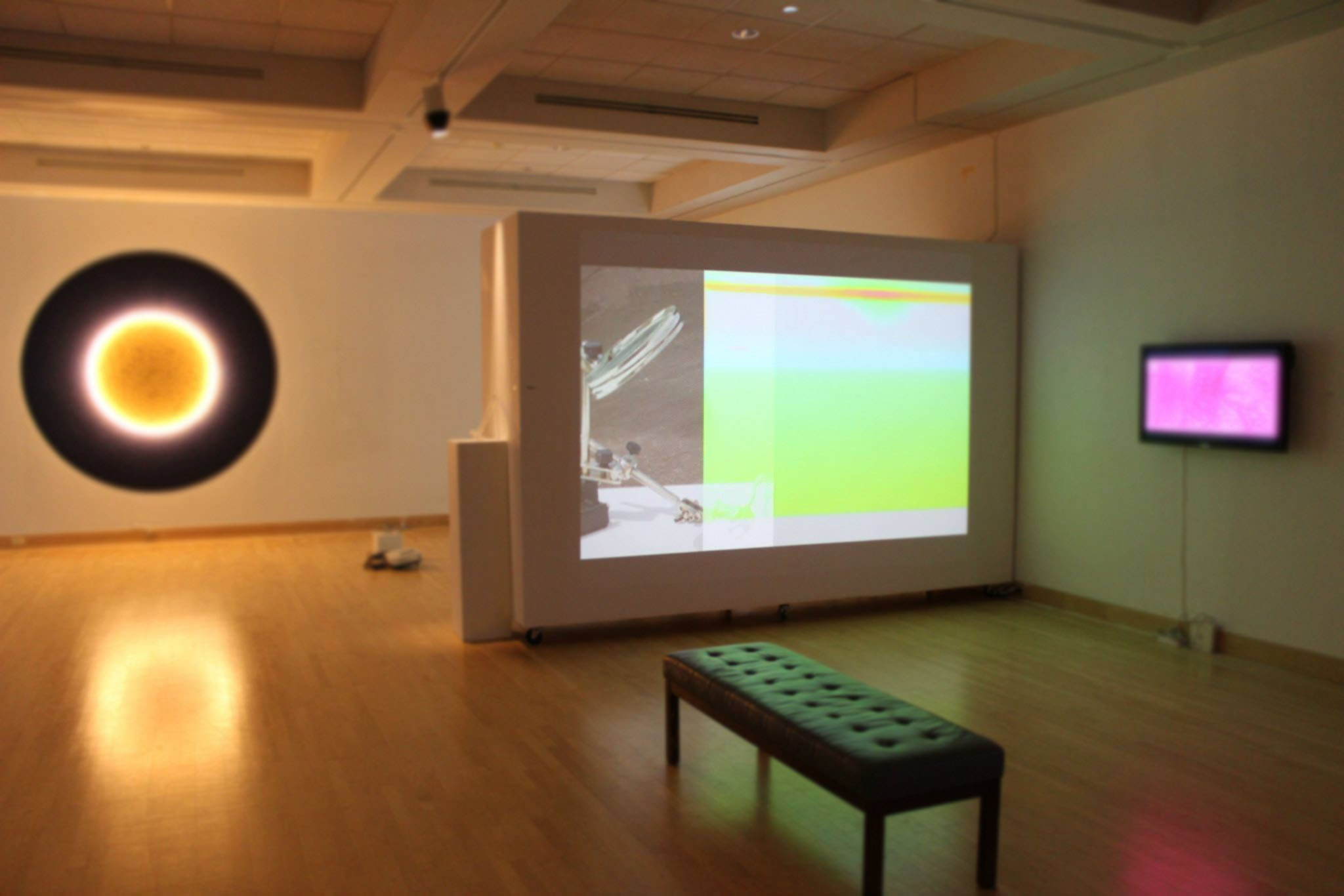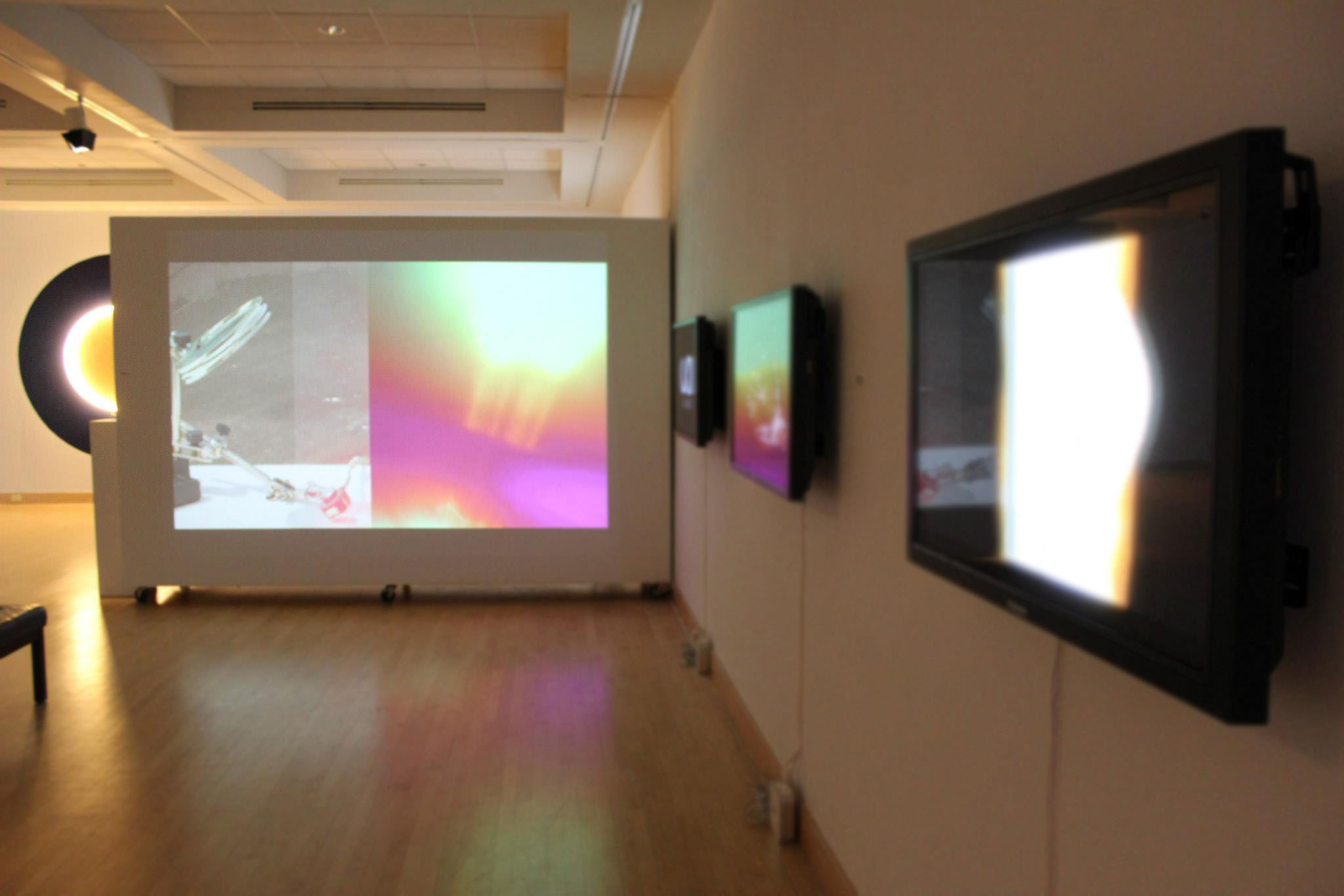 OPTICKS (2014)
11min looping 2 channel HD video and sound.
Inspired by Newton's early scientific investigations into the nature of light and visual perception (sometimes involving direct self-experimentation)
RUINS (2014)
6min HD
RUINS (2014)
30min looping HD (excerpt)

16mm "scratch" film digitized and reanimated in a continuous loop.
DRIFT 18HZ (2014)
Triple 16mm projection, modified shutters, film leader
STUDIO PERFORMANCE (2014)
Triple 16mm projection with beam-splitting glass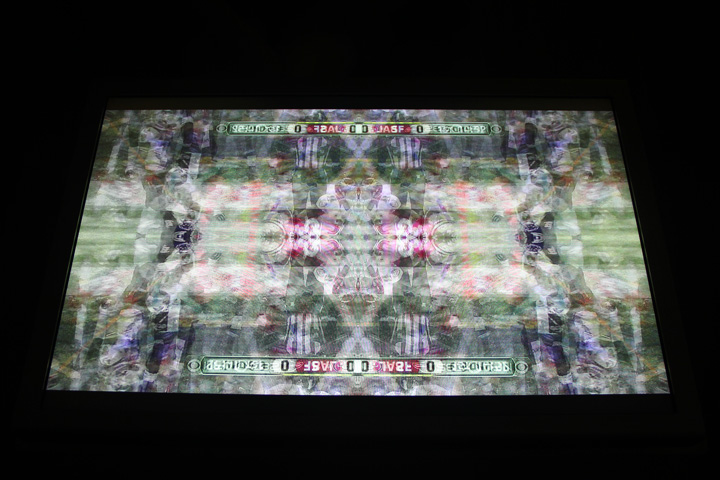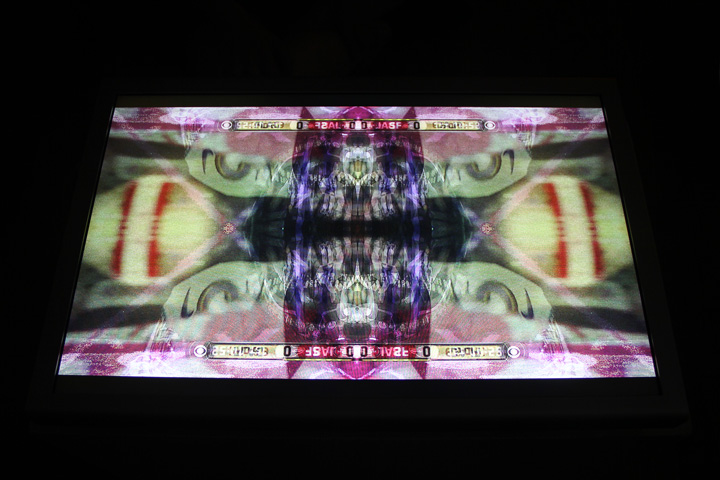 XLVII (2014)
4 hour looping single channel HD video (excerpt)
III (2014)
4 hour looping single channel HD video (excerpt)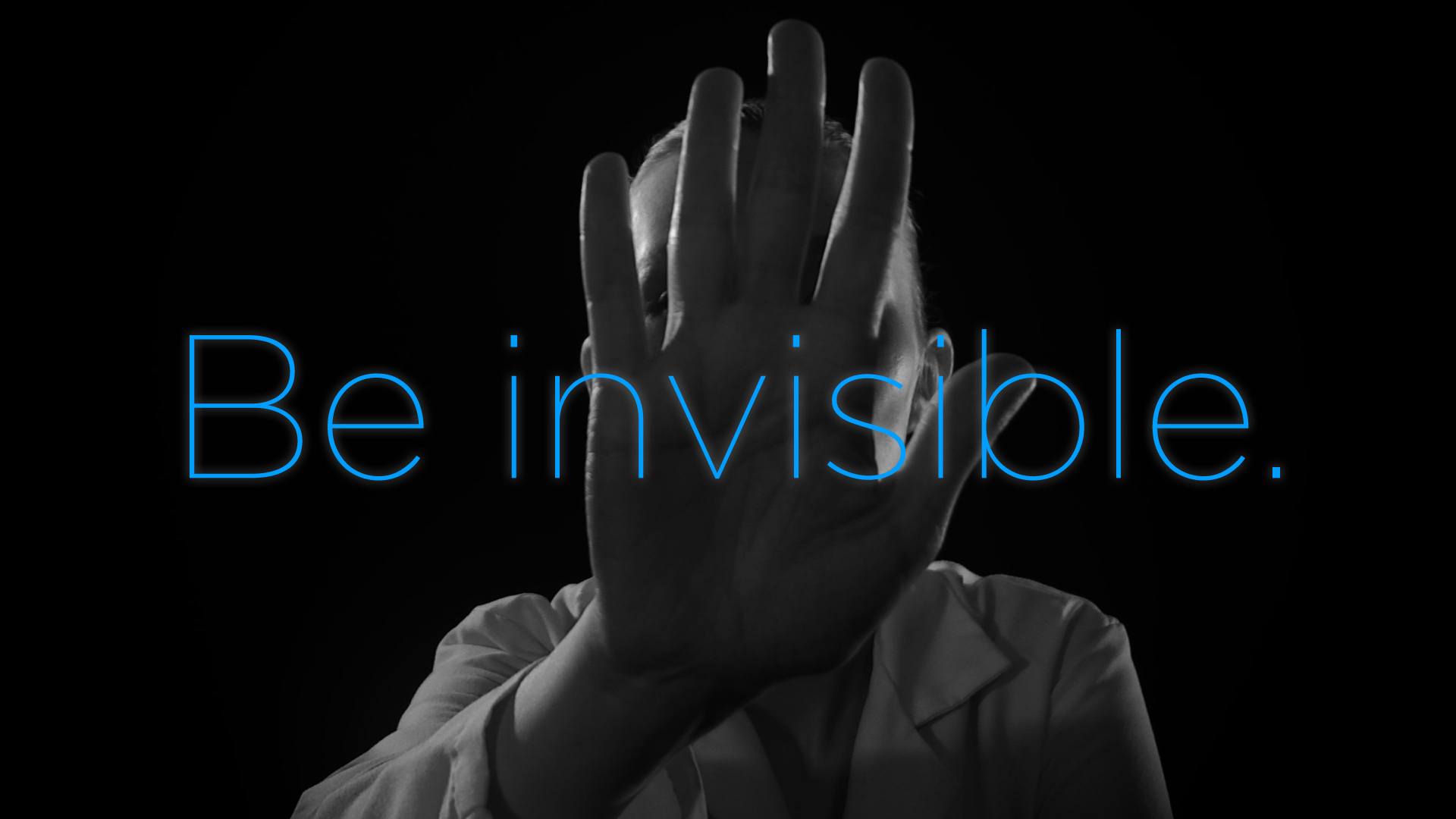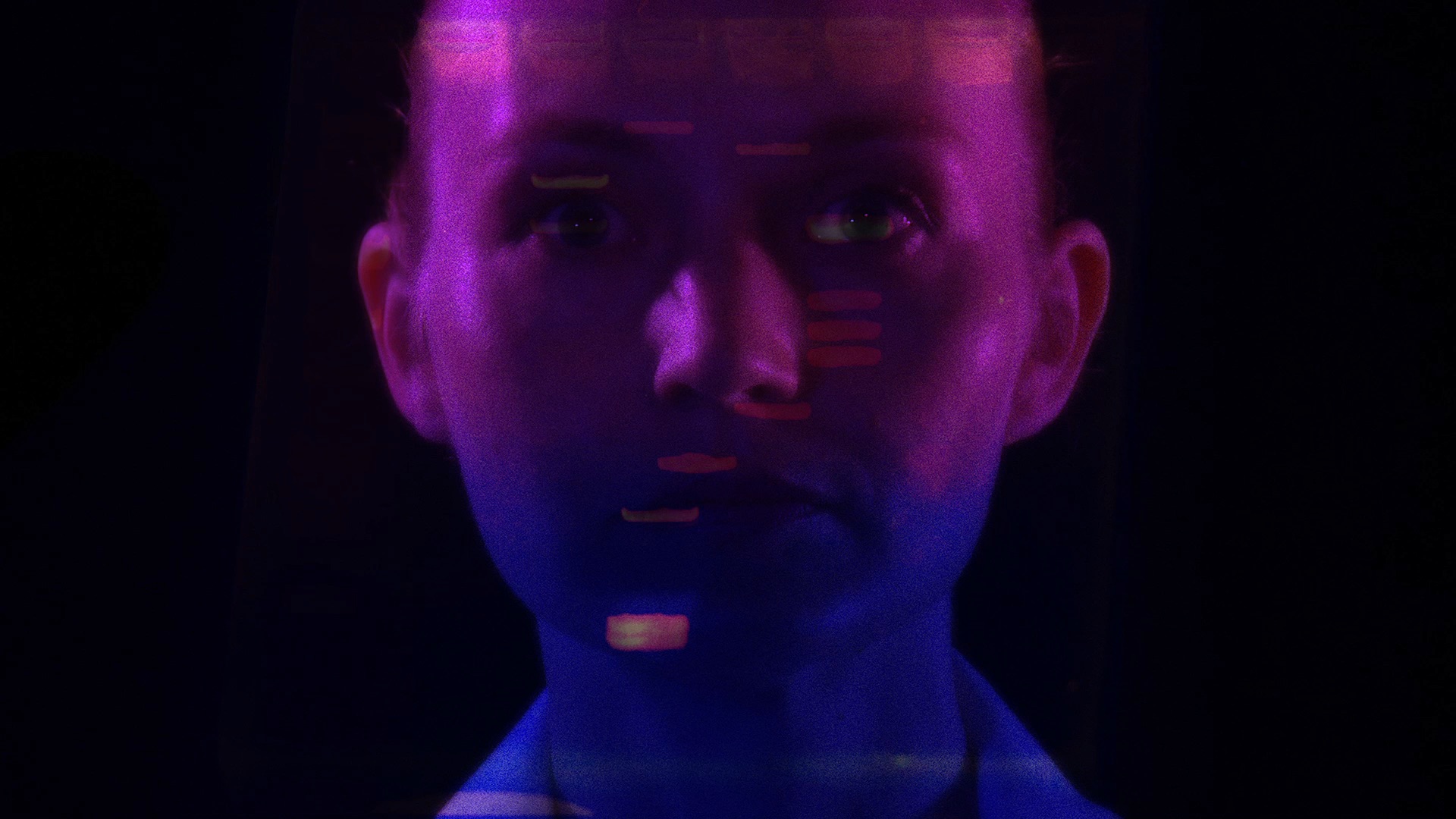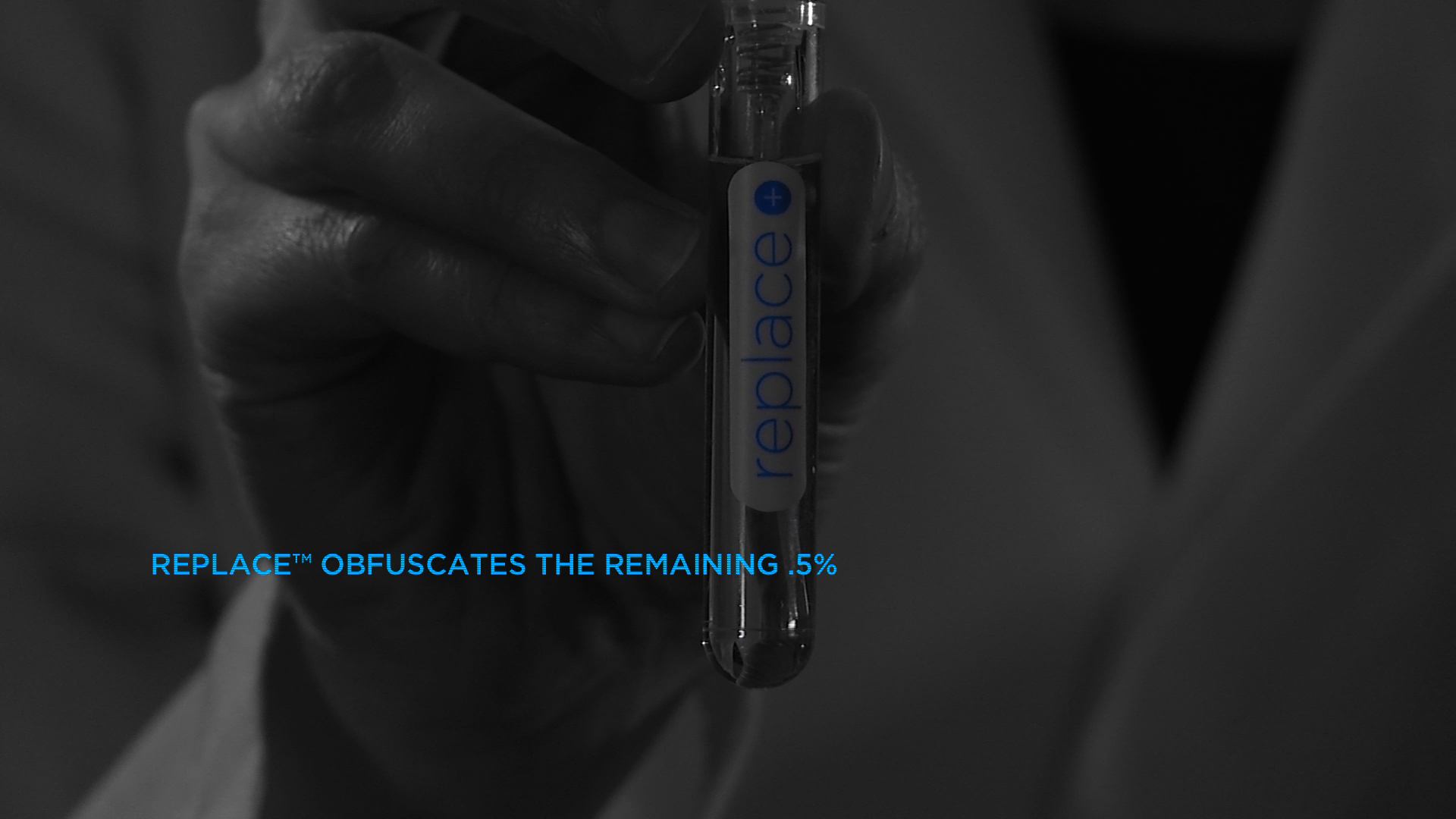 INVISIBLE (2014)
90sec HD video and sound
"Commercial" for Invisible: a fully-functional genetic privacy product offered for sale by the imaginary biotechnology company Biogenfuturess.

A collaboration with Heather Dewey-Hagborg.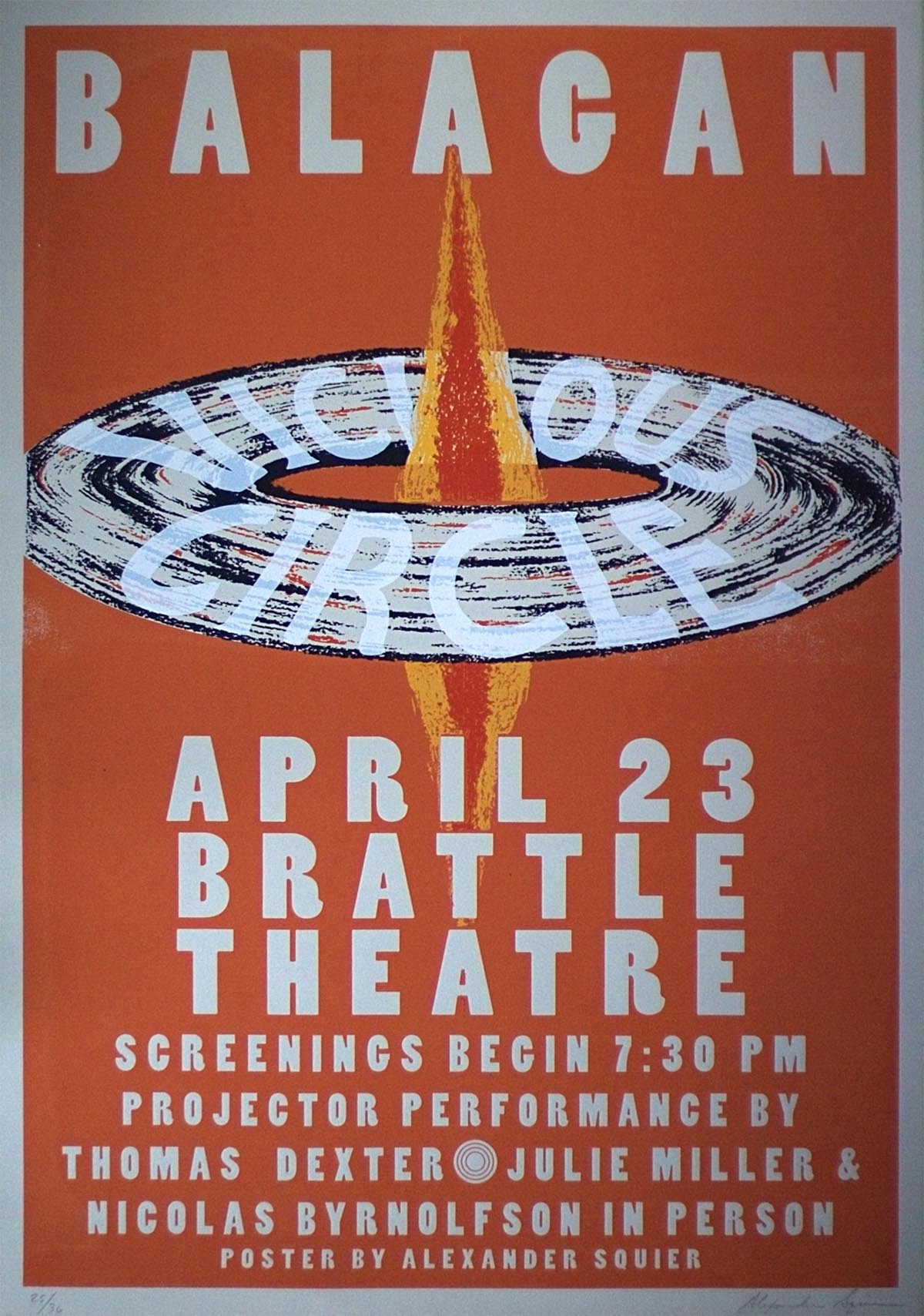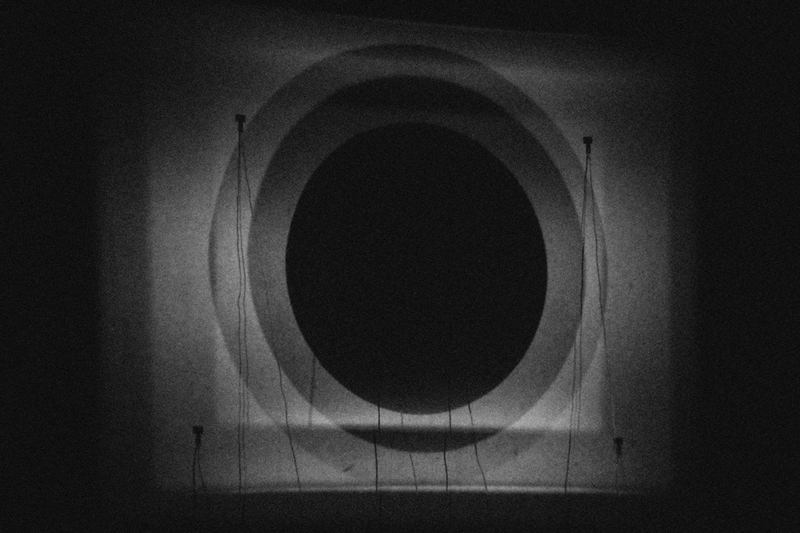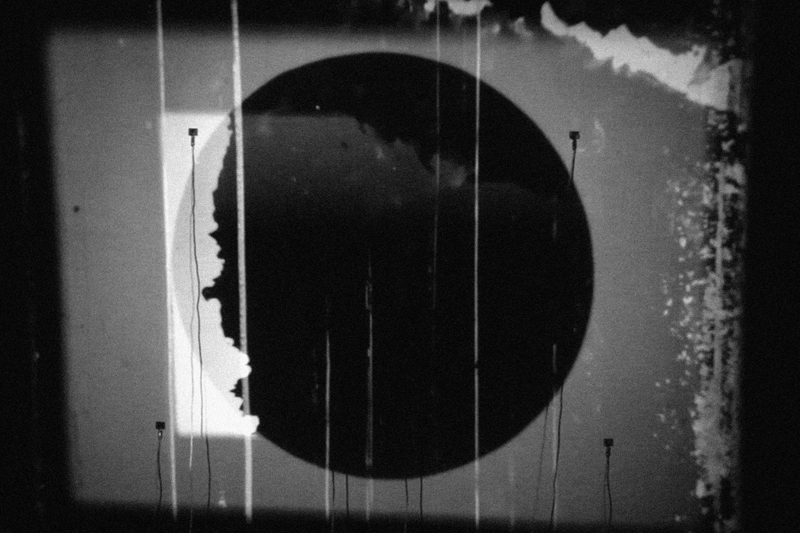 SQUARE/GETS/THE/CIRCLE @ BALAGAN SCREENING SERIES (2013)
Documentation from an expanded cinema performance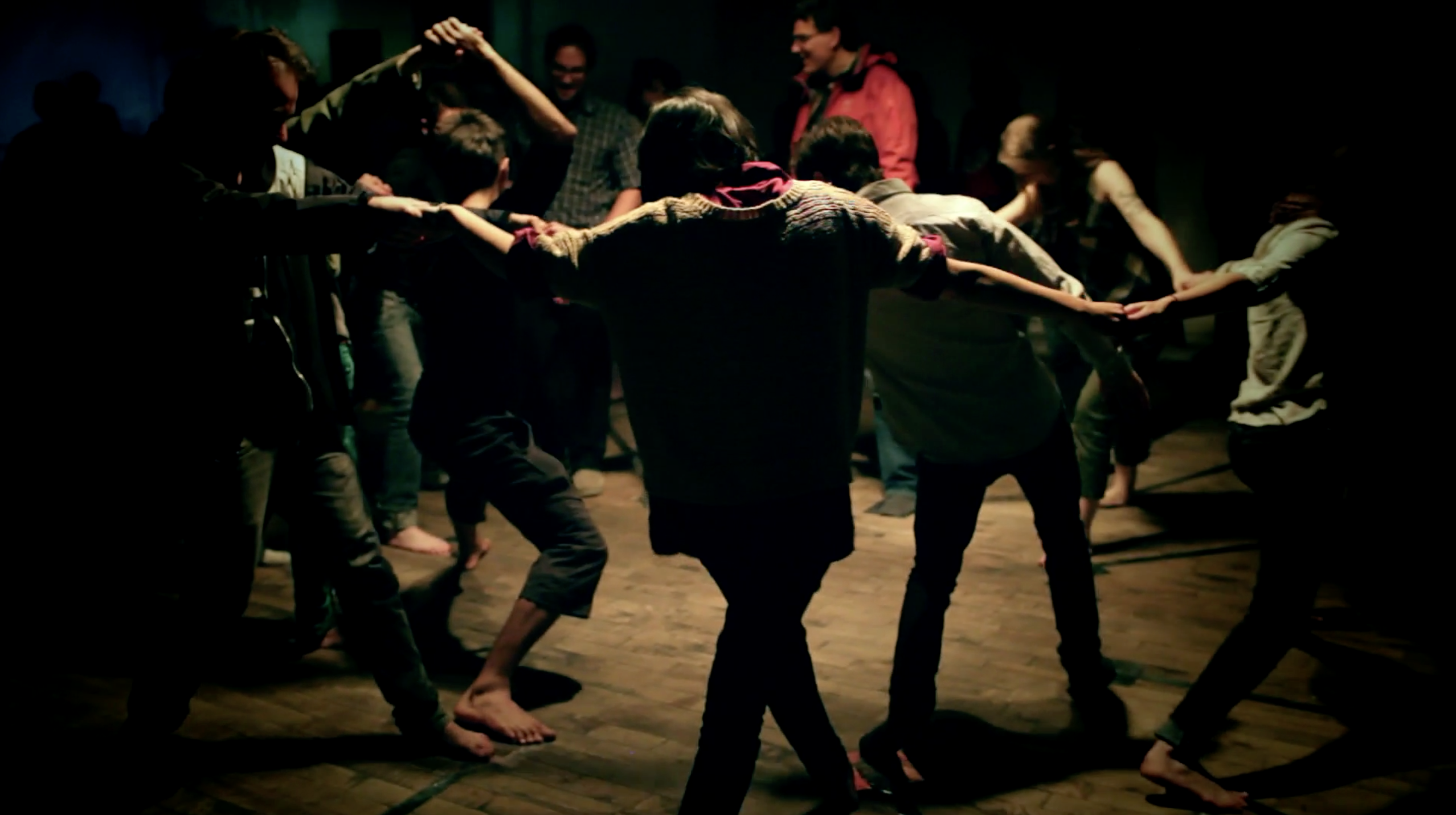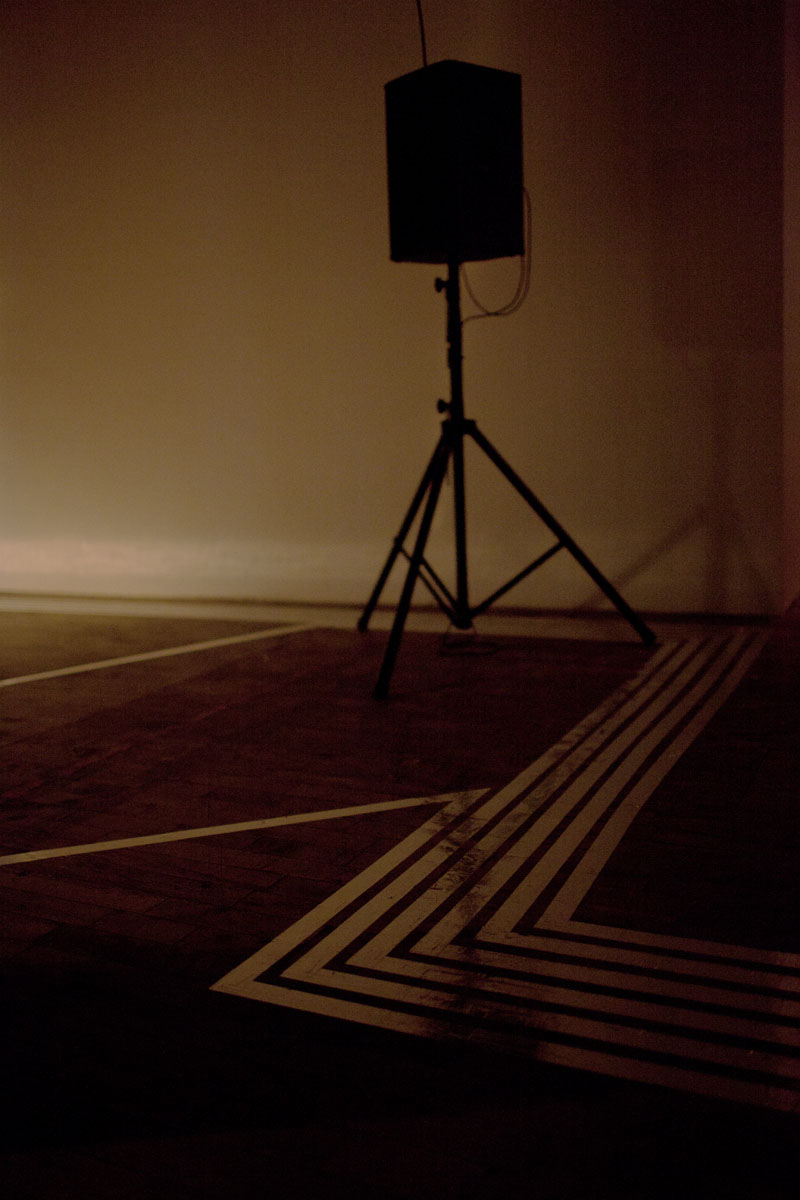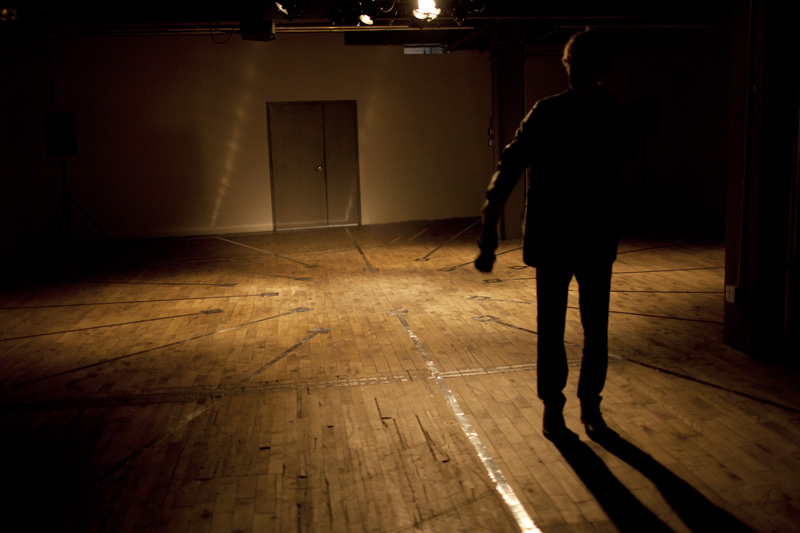 FUTURE ARCHAEOLOGY: OHM IV (2013)
A site-specific performance environment harnessing the conductive / resistive properties of the human body to create an evolving sound-scape. Premiered at SIGHT + SOUND festival 2013
SQUARE/GETS/THE/CIRCLE @ SIGHT/UNSEEN (2013)
Documentation from an expanded cinema performance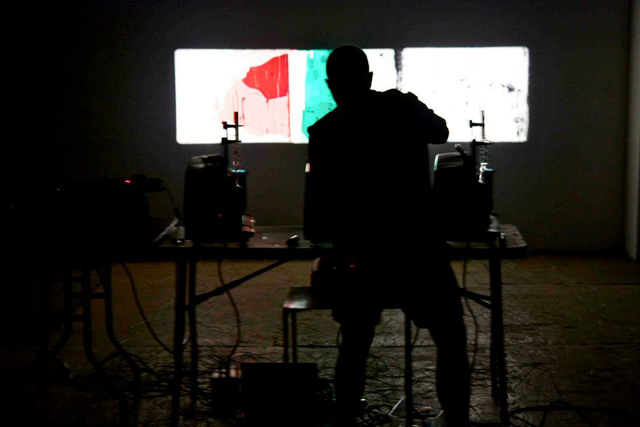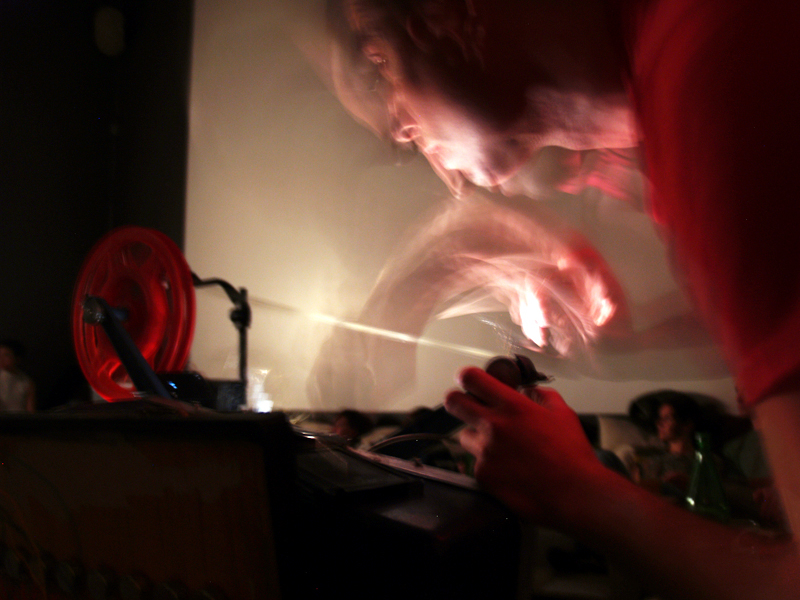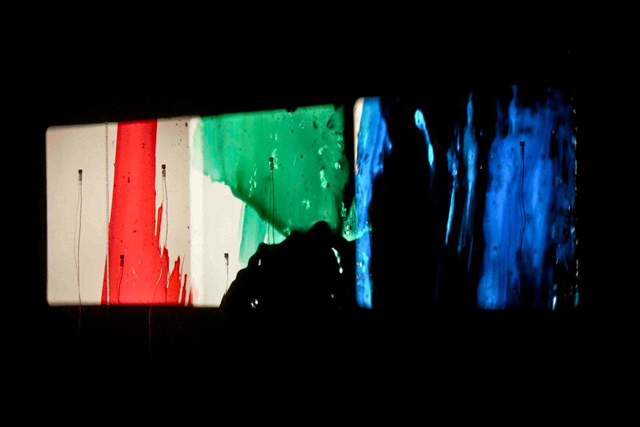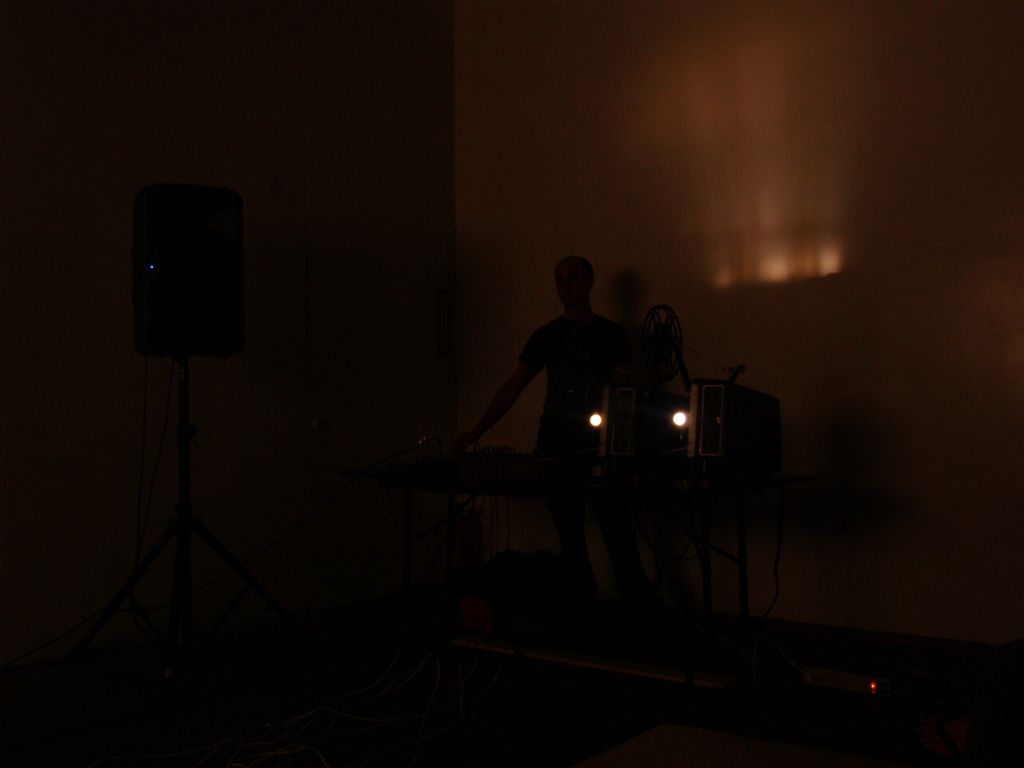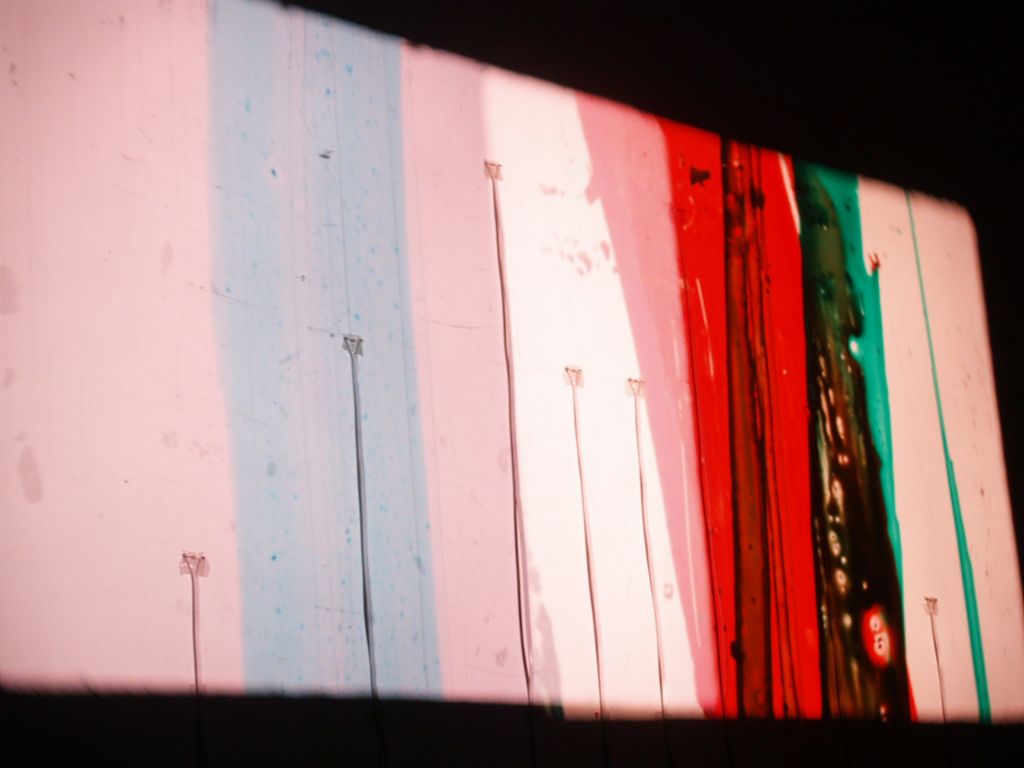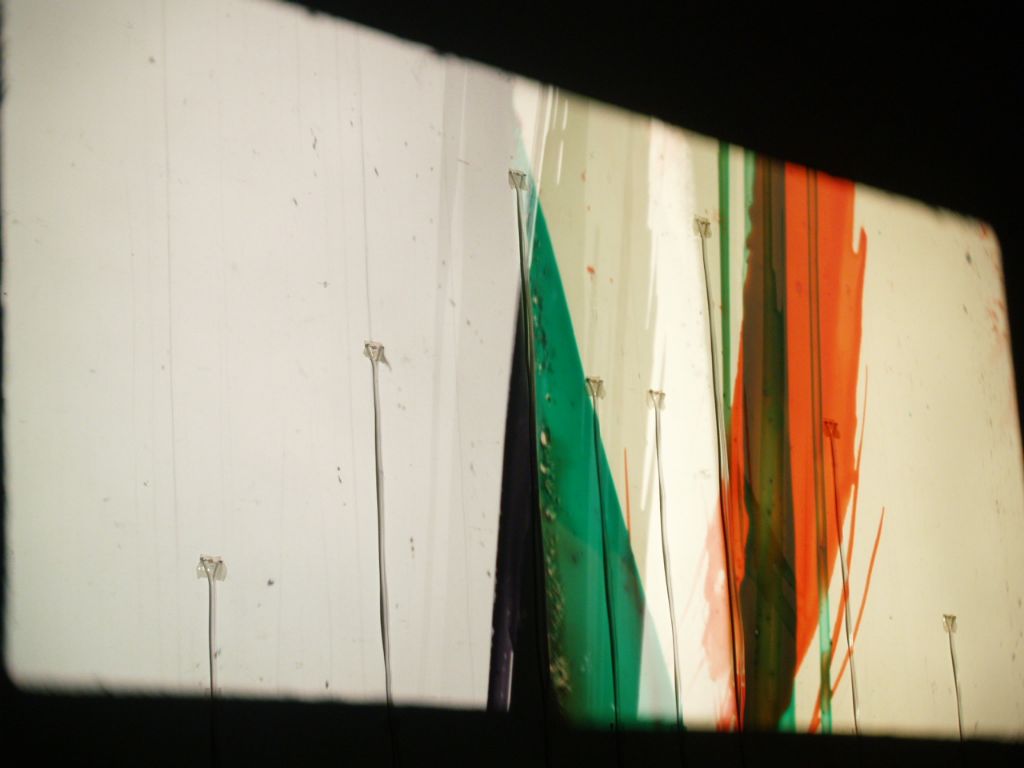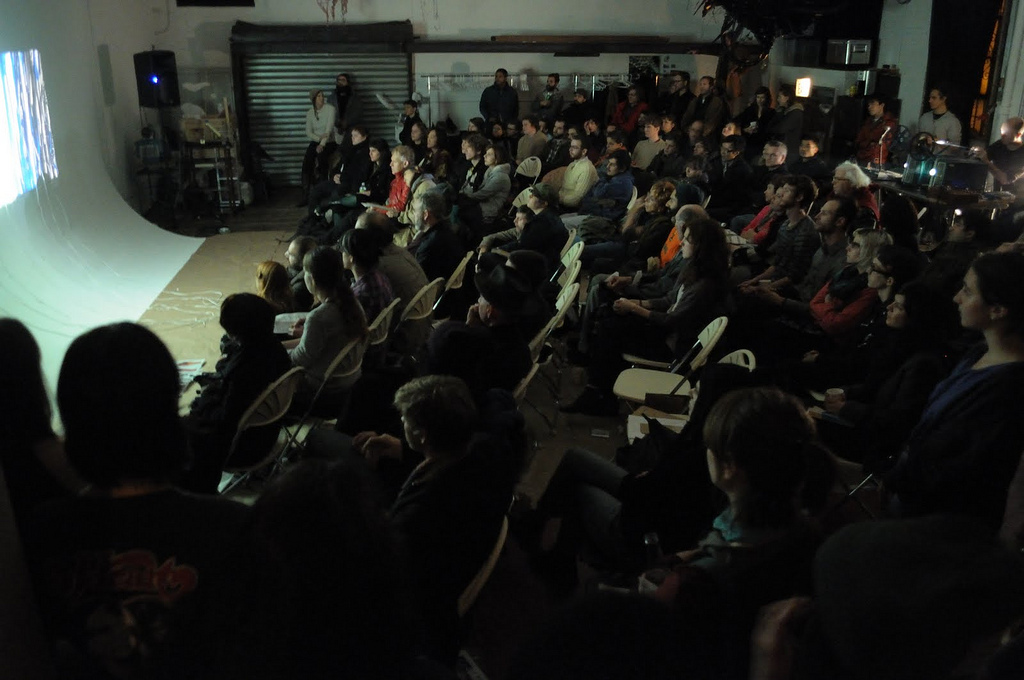 IMAGES: IN PERFORMANCE (2006 - 2013)
SPIN CYCLE: HORIZON I - IV (2012)
Looping single channel HD video and sound.
A power-drill mounted HD camera flattens and warps space as it approaches its representational and mechanical limits. All visual effects and sounds were derived from the camera apparatus itself.
ACTION/FILM @ THE INVISIBLE DOG (2012)
Documentation from an evolving performance that uses direct animation on 16mm film-leader,light-to-sound synthesis, and the destruction of the film itself.

Action/Film uses a vocabulary of direct animation gestures on the film's surface (drawing, etching, scratching) unfolding in real-time on 2 or 3 simultaneous loopThe sound is generated through custom transducers sampling directly off of the screen.
ACTION/FILM @MICROSCOPE GALLERY (2012)
ACTION/FILM @ THE ANARCHIST ART FESTIVAL (2012)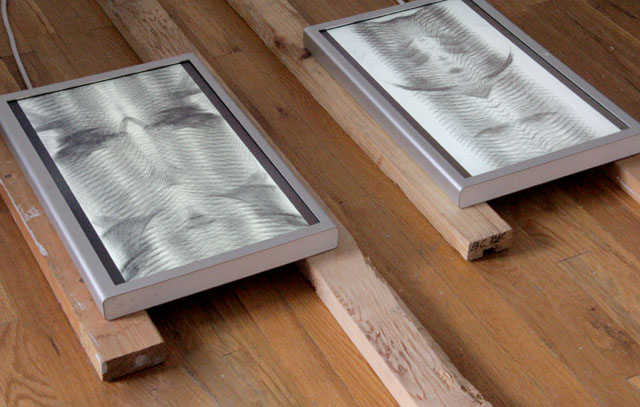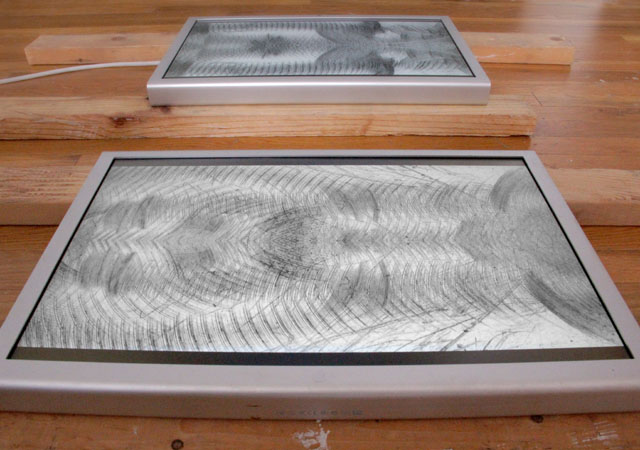 RUINS (2012)
SATISFACTION IS DEFERRED (2011)
Intro and verse of pop song time-stretched at a ratio of 1:33. 4 hours (excerpt)
Rendering of a Marshall® guitar amplifier and cabinet dimensionally stretched at a ratio of 1:33.
Rehearsal for live performance of SATISFACTION IS DEFERRED. Thomas Dexter: Guitar, Jake Adams: Drums.
UNTITLED (2011)
6min ink on 16mm film leader and optoelectronic sound transferred to HD (excerpt)
OHM II (2011)
Performance documentation. Crowd interaction is harnessed into a large-scale "human sound circuit."
ACTION/FILM (2011)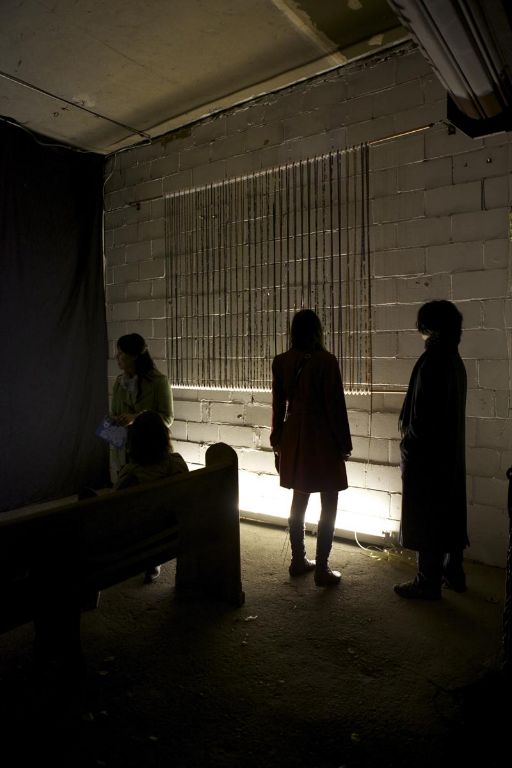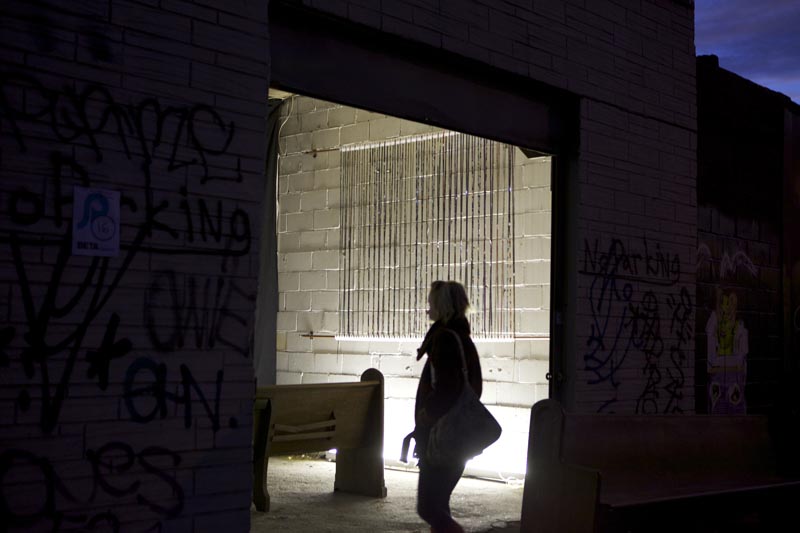 FILM STILL (2010)
Installation. Ink on film leader, copper tubing, rewind hardware, spools.

The film's original function is apparent but inaccessible..
DRAWING STUDY FOR "OHM" (2010)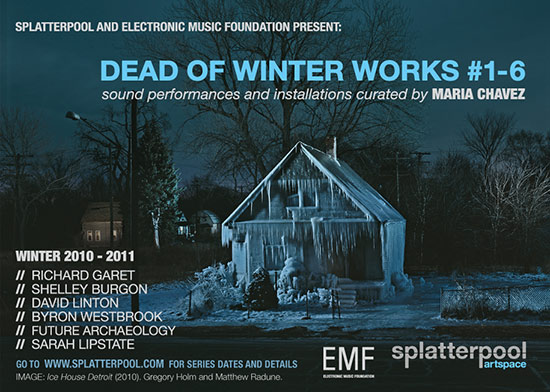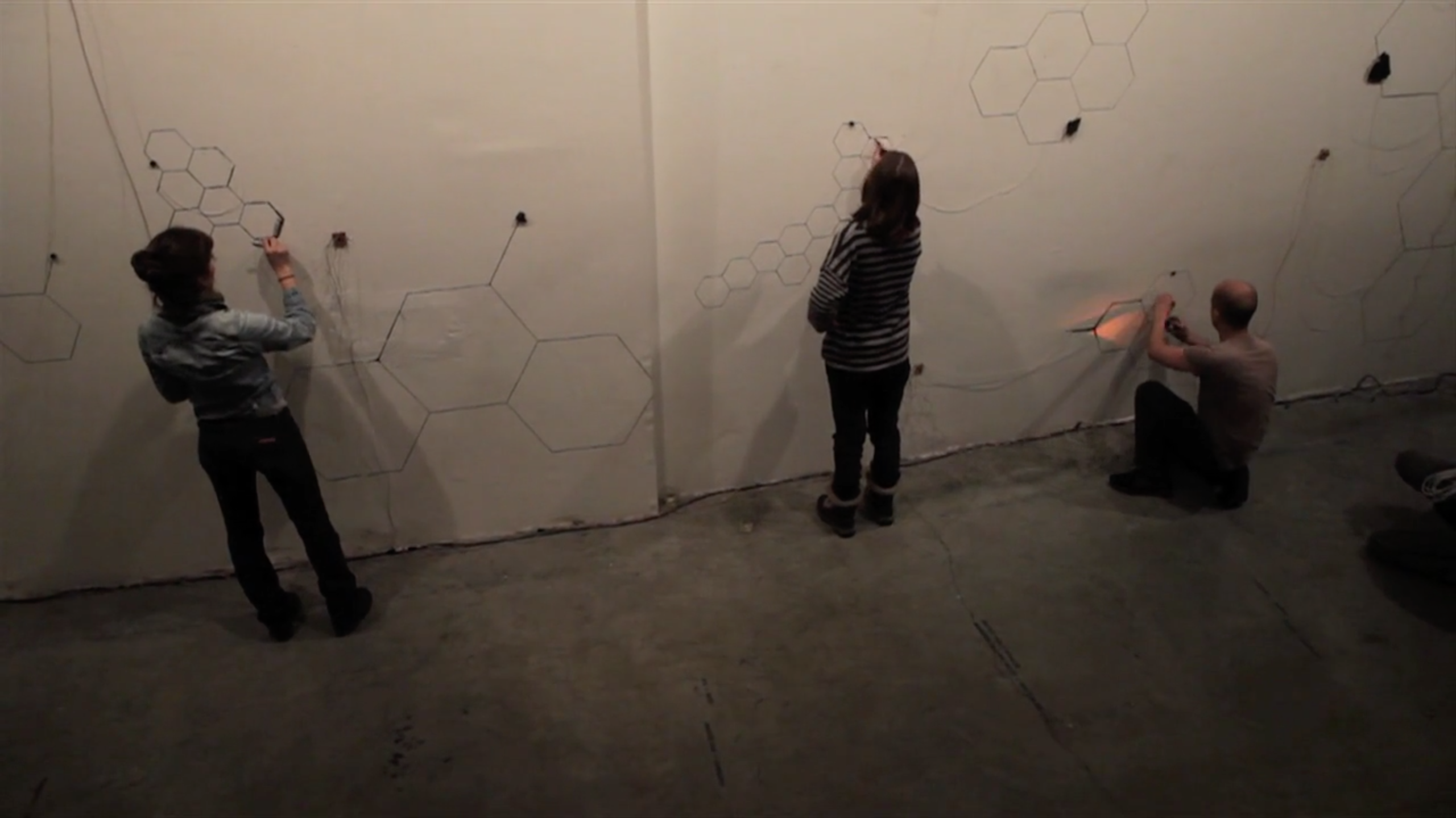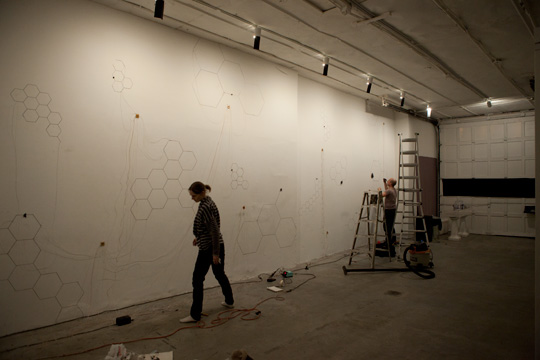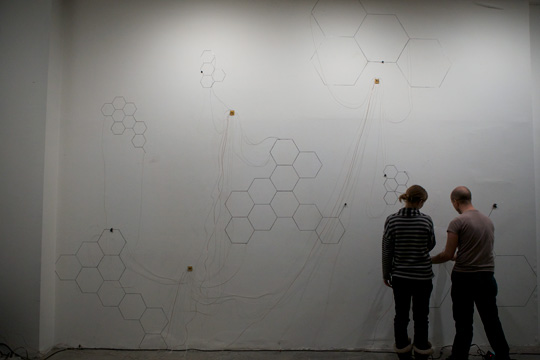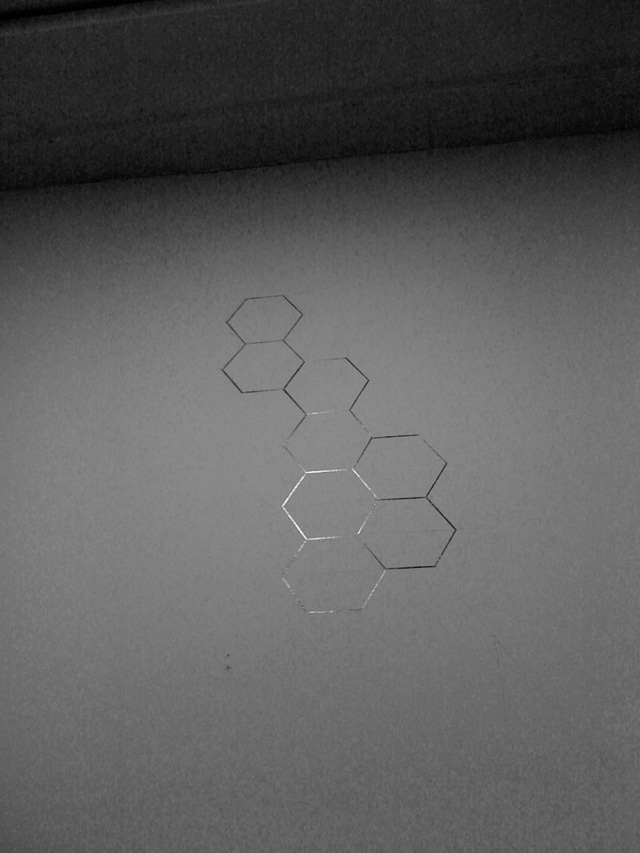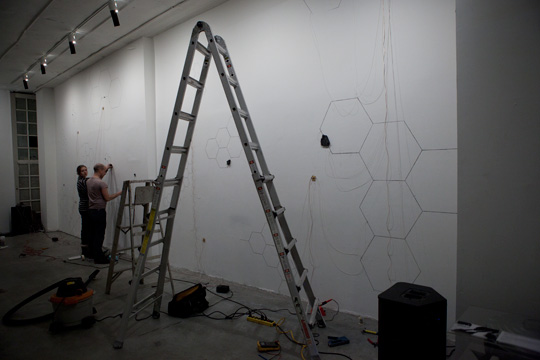 FUTURE ARCHAEOLOGY: OHM (2010)
An experiment in sound, drawing, and human conductivity. A graphite drawing filling the gallery wall diagrams the hexagonal, layered structure of carbon in its graphite form. This wall drawing becomes a network capable of conducting an electrical current. Out of this network emerges an evolving sound environment, and an opportunity to explore the conductivity and resistance of human touch. See the full event documentary HERE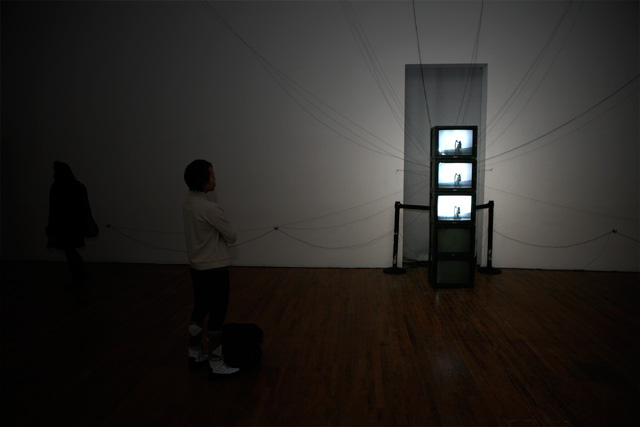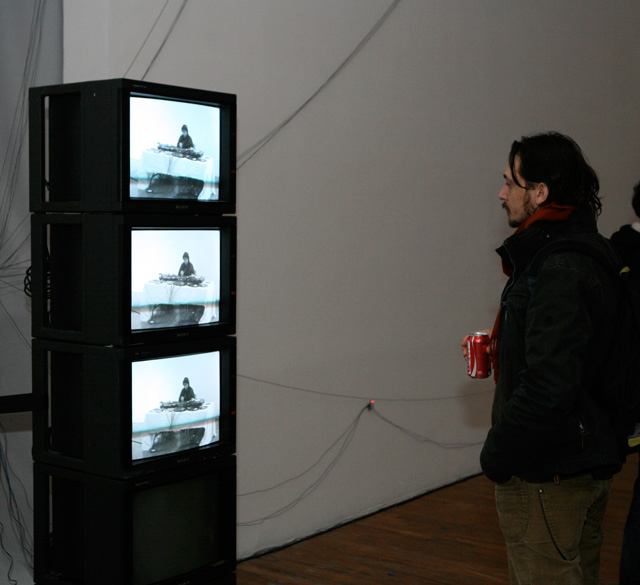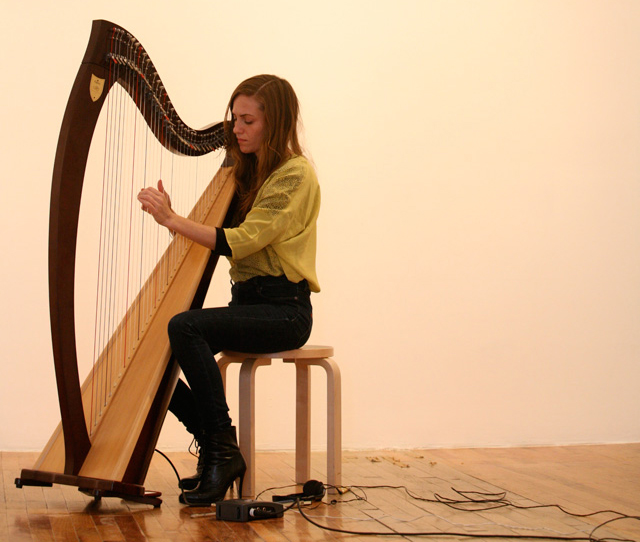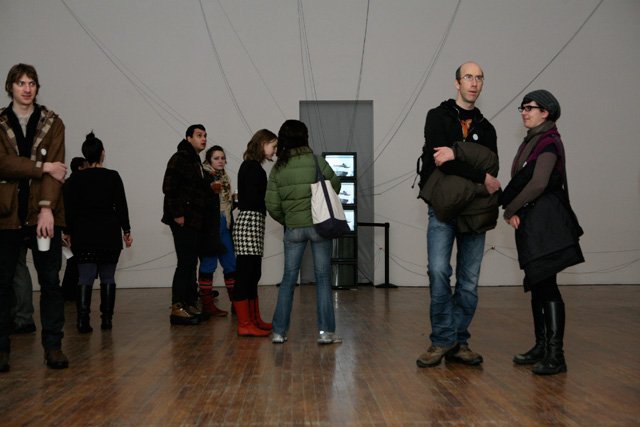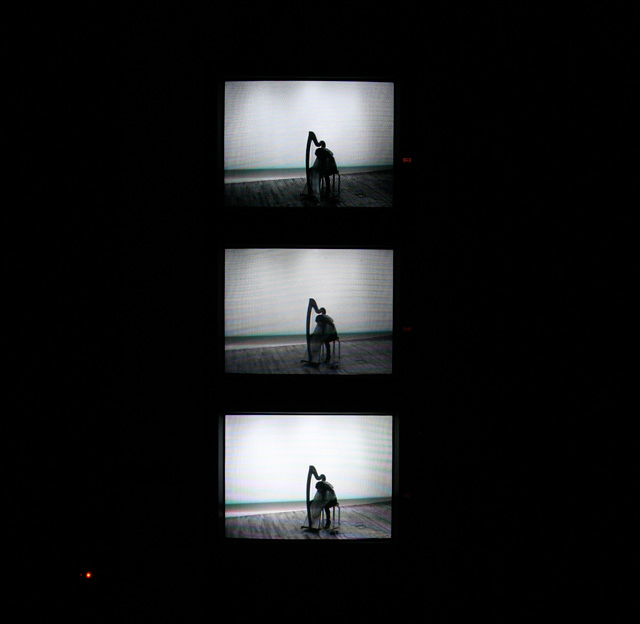 OPEN CIRCUIT (2010)
Interactive sonic architecture and performance @ PS1 MOMA.

in collaboration with Heather Dewey-Hagborg and Matt Radune. Performances by Maria Chavez & Shelley Burgon.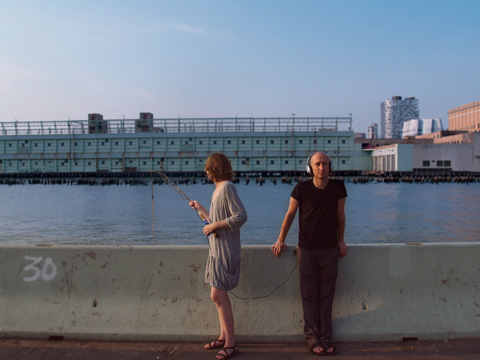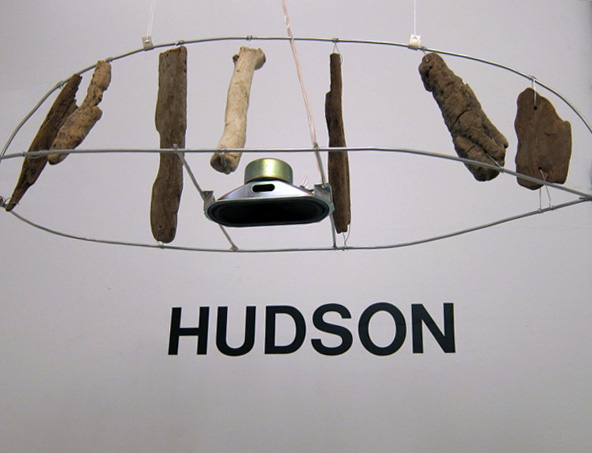 HYDROPHONY (2010-2011)
Hydrophony is an ongoing series of works that utilize underwater sound recording techniques to reveal the hidden soundscapes beneath urban waterways. These field recordings function as both chance sound compositions and observational tools allowing listeners to reflect on the dynamic interplay of nature, commerce, and recreation that characterize these places.

Hydrophony was performed and broadcast live online as part of the Art in Odd Places festival in 2010. Covered by Time Out Magazine And New York Press. Hydrophony has also been exhibited at the New Museum's Festival of Ideas for the New City, Seaworthy at the Elizabeth Foundation Project Space, and the Montior Digital Festival in Guadalajara, Mexico in 2011.

With Heather Dewey-Hagborg.
DRAWING ON FILM (2009)
Film process-drawings made, exhibited, and discarded over the course of a gallery show.
DARK DETECTION - (2009)
7min re-photographed Super 8 film, sound, electronics.

A modified "darkness alarm" circuit sonifies areas of moving shadow.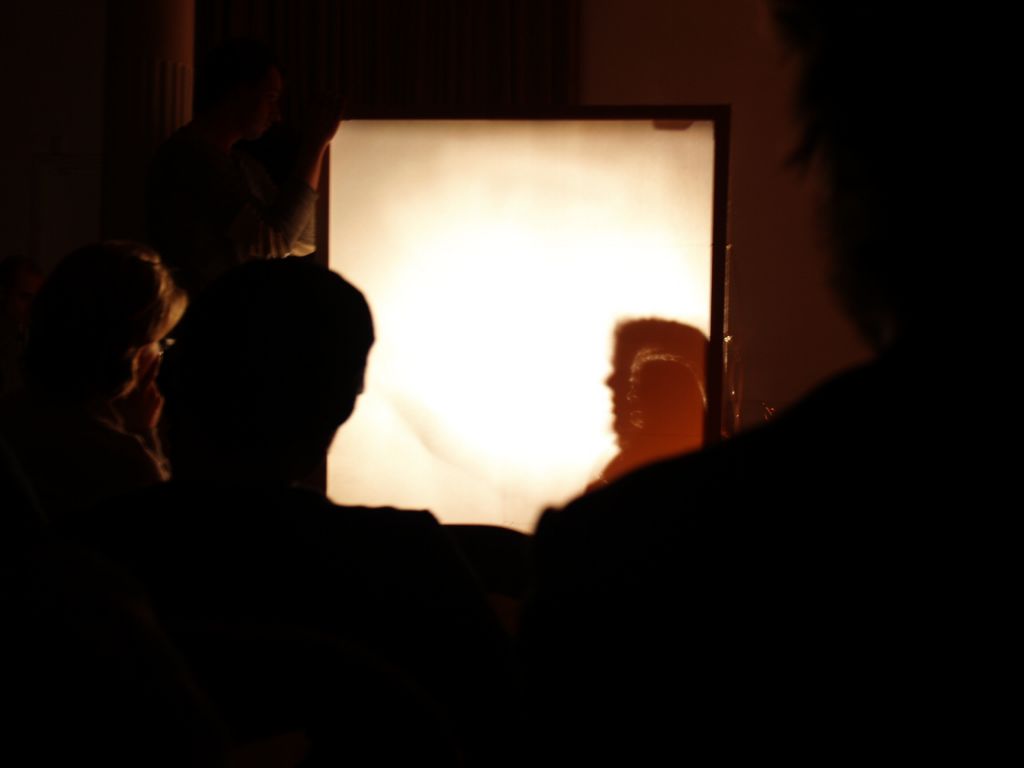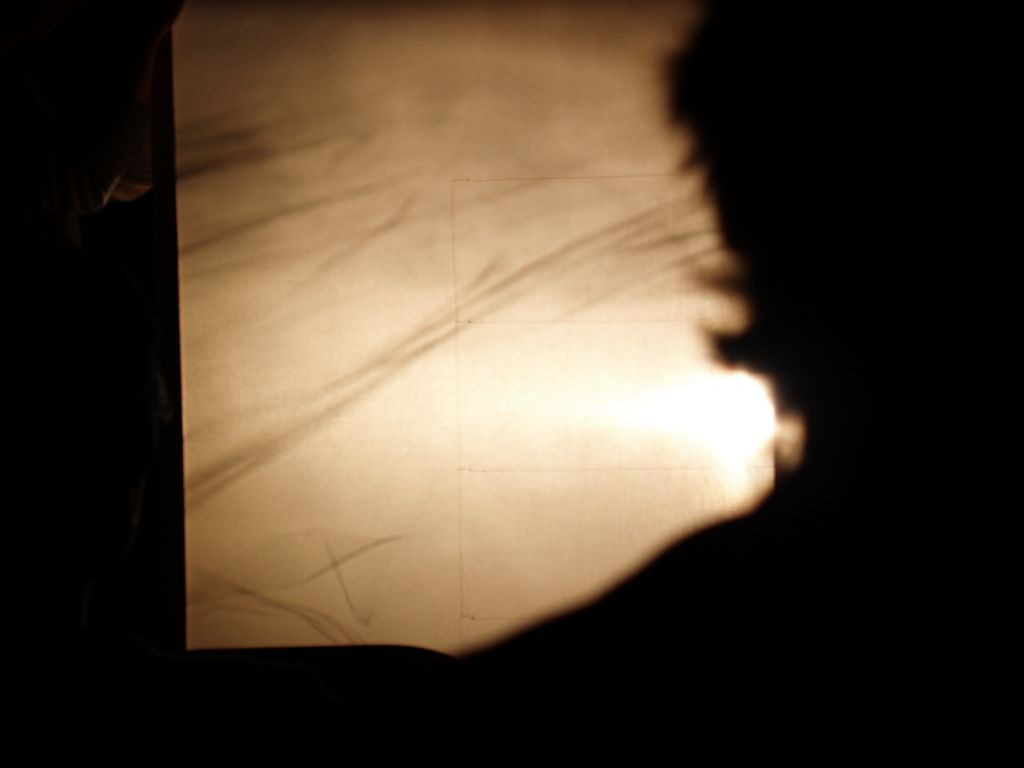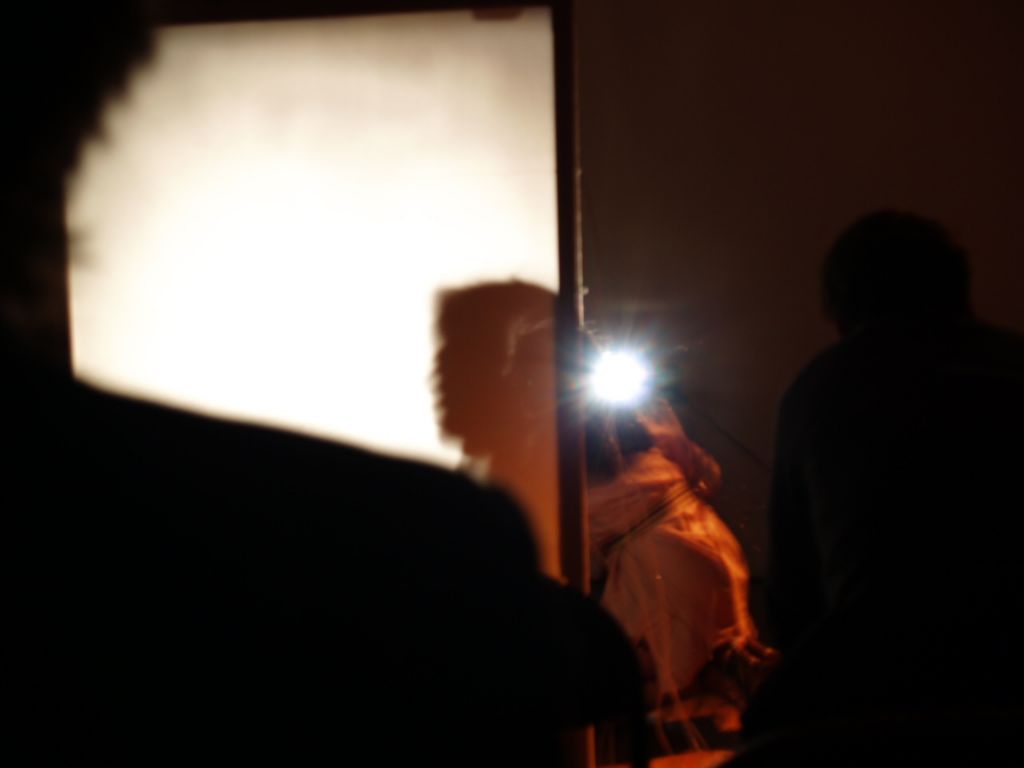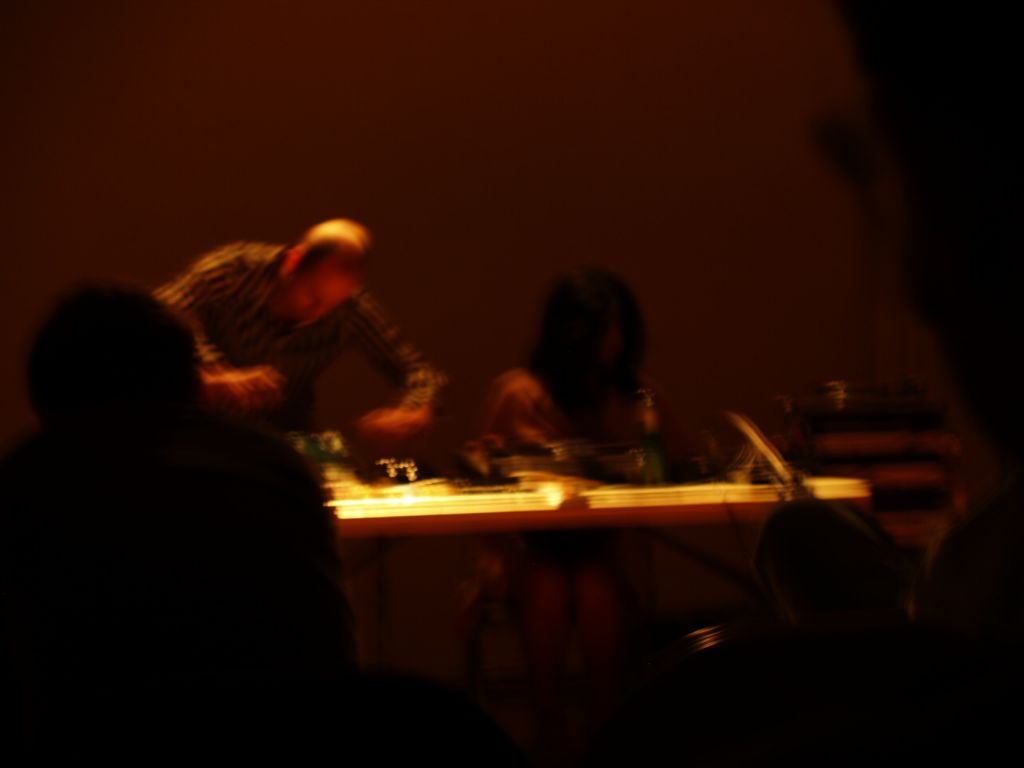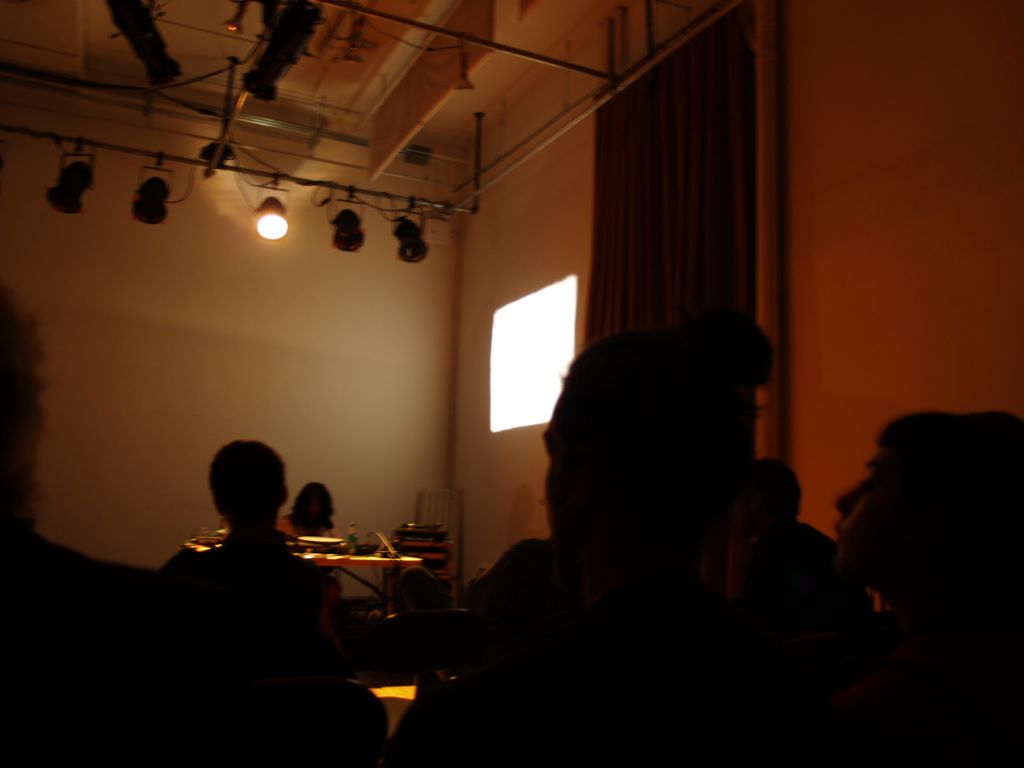 Audio/visual duets with Maria Chavez exploring memory and interpretation.
STRIATED FIELDS I (2006)
VHS tape transfered to HD. 5min looping.